Home > India > News > First Look


Discuss |
Email |
Print | Get latest news on your desktop


Andhra CM son-in-law's mammoth religious meet draws flak

Mohammed Siddique in Hyderabad | December 15, 2008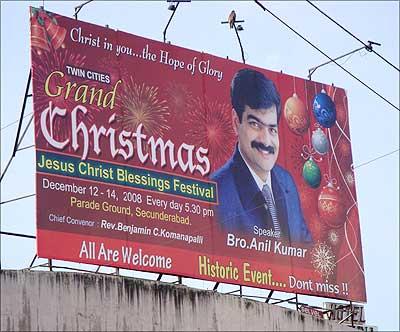 Evangelist Anil Kumar's debut in Secunderabad bore all the hallmarks of a gala event. A sprawling parade ground packed with nearly 1.5 lakh people, a 250-member choir and guests including Chief Minister YS Rajasekhara Reddy, his wife and only daughter.
 
So why are the Bharatiya Janata Party and the Telugu Desam Party crying foul over the Evangelist's religious sessions?
For Anil Kumar is YSR Reddy's son-in-law, and the Opposition parties have started questioning how Anil Kumar's mammoth congregations were funded.
 
Very few people were aware of who Anil Kumar was till hundreds of huge hoardings,  welcoming people to his 'Grand Christmas celebrations', sprung up all over the twin cities of Hyderabad-Secunderabad.
After it was revealed that Anil Kumar was the chief minister's son-in-law, the TDP and BJP demanded an inquiry into the source of funding for such large-scale publicity, insisting that ill gotten money was being used to promote the Evangelist.
 
While Anil Kumar avoided the media, YSR quipped, "What is wrong in it," when asked about the publicity machinery being used to promote his son-in-law.
On the night of the congregation, Anil Kumar made a grand entry and left a deep impression with his oratorical skills and his inspiring speech.
 
Anil Kumar told the congregation that he had experienced many miraculous changes in his own life after he adopted Christianity.
 
"All you have to do is believe in Him," he exhorted the people, stressing that God will take care of everything and everybody if people have faith in Him. "No doctor has a treatment for AIDS but there is a supernatural doctor who can do it," he said.
 
Reddy, his wife Vijaya and daughter Sharmila also addressed the congregation. While the chief minister restricted himself to extending Christmas greetings to the people and praying for peace in the state, his daughter stole the show with her spirited speech. She drew huge applause when she quoted a passage from the Bible, "God gives us power but we should rejoice in God". 
 
Though Brother Anil Kumar has held such congregations at many places across the state including Rajahmundry and Warangal, this was the first time that he held such a session in Hyderabad and Secunderabad.
 
Incidentally, Anil Kumar is being promoted as an Evangelist at a time when the ruling Congress is embroiled in a running feud with another internationally famous evangelist K A Paul, who is facing legal problems in the state.
"Rajasekhara Reddy is promoting Anil Kumar so that he can become more popular than K A Paul," alleged TDP leader N Rajakumar.
 
Meanwhile, YSR's only son YS Jaganmohan Reddy is being groomed for a political role, and he will contest the next Lok Sabha elections from Kadapa constituency.
Image: A poster promoting Brother Anil Kumar