Home > India > News > First Look


Discuss |
Email |
Print | Get latest news on your desktop


Chouhan leads BJP to second term in MP

December 08, 2008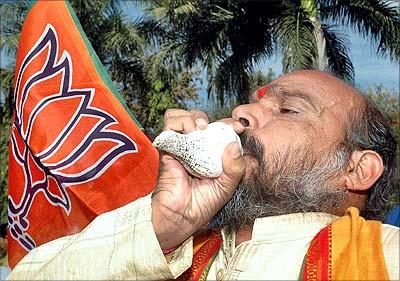 The Bharatiya Janata Party is all set to remain in the saddle in Madhya Pradesh [Images] by leading in 139 of the 230 assembly seats in the state.
Trends from all the seats showed that Congress was far behind leading in 70 constituencies and others in 22. Leading the list of BJP winners was Madhya Pradesh Chief Minister Shivraj Singh Chouhan, who won yet again from Budhni assembly constituency with a huge margin of more than 40,000 votes.
Other BJP winners included State Assembly Speaker Ishwardas Rohani, who won by more than 25,000 votes from Jabalpur Cantonment, Vijay Shah from Harsud, Raghavji from Vidisha, Tukojirao Pawar from Dewas, Kailash Vijayawargiya from Mhow and Surya Prakash Meena from Shamshabad.

The Congress winners were Lakhan Ghanghoriya from Jabalpur north, Satyanarayan Patel from Depalpur and Yadvendra Singh from Tikamgarh.
The saffron party appeared to have gained from the Mumbai terror attacks [Images] just a day before the polling and shrugged off anti-incumbency, intra-party rivalry and the challenge posed by former party leader Uma Bharti.
BJP had made terrorism its main electoral plank, accusing the Congress of being 'soft' on dealing with the scourge and projecting itself as the party which could insulate the country from it.
After the November 26 Mumbai attacks, the BJP intensified its campaign on terrorism. In this connection, the party issued advertisements in newspapers and its leaders, including L K Advani [Images] and Gujarat Chief Minister Narendra Modi [Images], raised their pitch against Congress over the issue.
However, this plank failed, significantly in Delhi [Images] and Rajasthan, which have suffered terror attacks repeatedly.
As electoral results trickled in, BJP President Rajnath Singh virtually admitted the failure of terrorism as a pollplank when he said that local issues played a crucial role in the elections.
At the party headquarters here, BJP leaders were silent on the issue of terrorism and instead attributed victories in Chhattisgarh and Madhya Pradesh to the development plank.
"It is for the first time in the history of BJP, with the exception of Gujarat, people have voted us to back to power on the basis of performance. The vote for BJP in Chhattisgarh and Madhya Pradesh is a vote for performance," senior BJP leader Venkaiah Naidu said.
In Madhya Pradesh, Congress feels that the Mumbai attacks could have influenced the voting pattern to some extent.

Image: A BJP worker blows a conch to celebrate the victory in assembly elections at BJP state office in Bhopal.
Text & Photograph: PTI

Also Read:
Analysis: Advantage Congress, BJP shell-shocked
But for Delhi, poll results no setback: BJP
Pachouri quits over Congress's MP debacle
Coverage: Battle '08