December 04, 2008 15:25 IST


Dr Ashish Kumar Tiwari, staff physician and spokesperson of Bombay Hospital was moving towards the city from the Ernst & Young IBA award function when his wife called and begged for him to return home. He was on night shift.

"Terrorists have attacked a few places in Mumbai and firing was reported from CST station," she had warned him even when he was dining with CNN's Riz Khan earlier. "Please come back home from wherever you are," she now said.

Paying no heed to his wife Dr Tiwari decided to drive towards Bombay Hospital. He sensed something was terribly amiss from the deserted streets as he drove from Bandra-Kurla Complex towards Marine Drive [Images] where Bombay Hospital is located. It took him just about 25 minutes to cover a distance which even at 10 pm takes more than 50 minutes because of vehicular traffic.

"When I was near Metro cinema I did hear a few gunshots. Later I got a call from my office to rush immediately as many of the CST casualties were being brought to Bombay Hospital for medical care," he told rediff.com.

The minute he reached Bombay Hospital that night he was stunned by the enormity of the terrorist attacks and the potential  number of casualties. He immediately summoned his staff to call about 150 doctors and 500 nurses who stay on the Hospital campus; thankfully half of them were present in the hospital premises from where the staff hostel is just a couple of minutes away.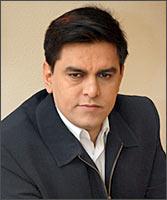 As feared by Dr Tiwari and medical director Dr D P Vyas after an emergency meeting of the hospital management and their staff, casualties began trickling in through the night. "We had to make arrangements to treat some 40 to 50-odd casualties on the first day of the attack itself," says he.
"The doctors on duty took a call on how to handle so many seriously injured patients that included policemen, NSG commandos and the common people," says Dr Tiwari about the way his entire staff handled different cases based on who was injured how seriously and the treatment that could help save lives.
"We had to get the operation theatre, cardiac care unit, neurological unit, ophthalmic unit ready on a war footing. There were patients with chest, lung, head and eye injuries. Also getting the support staff prepare the CT (computer tomography), MRI (magnetic radio imaging) and ultra-sound machines at quick notice was not that easy. But we managed somehow," he says.
According to Dr Tiwari, the diagnostic centre plays a very crucial role in saving lives in any medical emergency of such magnitude. "All our doctors, nurses and other support staff did a great job in saving precious lives," Dr Tiwari says in praise.
As per the information with him, 78 patients -- 17 foreigners included -- were brought to Bombay Hospital on those three days. Out of these five were brought dead; two died immediately after they reached the hospital. Out of the 71 surviving patients who were critically injured, five to eight were in critical but stable condition. Fortunately, their chances of survival are "very, very bright".
"Do you know that we have the largest number of ICU beds in Mumbai?" Dr Tiwari asks. "Bombay Hospital has 142 ICU beds and that played a key role in saving precious lives," he adds with pride.
When asked if he was not scared to venture out that night despite knowing the probable threat to his life, Dr Tiwar laughs it off. "I was more worried about my brother who also works in the same hospital" he says.
Image: Dr Ashish Kumar Tiwari, staff physician and spokesperson, Bombay Hospital.