December 03, 2008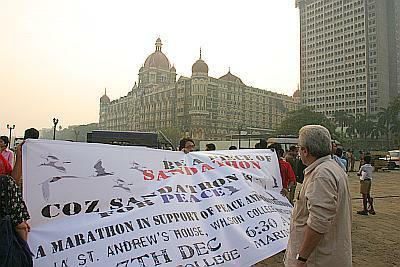 Tens of thousands of people across the country poured into the streets and held candle-light vigils and peace marches this evening in a spontaneous show of solidarity with residents of terror-ravaged Mumbai, which saw an unprecedented turnout at Gateway of India voicing their anger against the politicians.
Shouting slogans, people gathered in Jantar Mantar in Delhi [Images], near Cubbon park in Bangalore, War Memorial in Secunderabad and at the Maidan and College street in Kolkata, Lucknow and Chennai as Mumbai emerged from the pall of shock and grief that hung over the city since the 26/11 attacks that claimed 181 lives.

Posters and placards vividly captured the anger and concern as young and old, women and children thronged the iconic red sandstone Gateway to India opposite the Taj Mahal hotel [Images] which along with Trident-Oberoi bore the brunt of last Wednesday's terror attacks.
'Enough of terrorism', 'Let us kill terrorism Halla Boll', 'Politicians get out' and 'We want actions not words' were some of the messages conveyed in banners and placards.
"We have never seen such a show of solidarity for a single cause at the Gateway of India," said Ad guru Prahlad Kakkar, as white candles were lit around a wreath of red roses laid on the cobbled plaza of the harbour-front structure.
As dusk fell, the Taj Mahal was fully lit with roads packed with people right from Colaba police station till the Gateway and Regal.
In other metros too, anger was the all pervasive emotion.

In Kolkata, a Pakistani flag was burnt by protestors who condemned Islamabad's [Images] 'hand' in the terror attack. 'Enough is enough', said a placard in Bangalore
"Terrorism [Images] has no religion. People should unite in the fight against terror," said Sandeep Mishra, an engineer at Jantar Mantar in Delhi.
The protestors in Kolkata bserved a minute's silence in memory of the terror victims. People thronged the rally venues largely due to the viral SMS phenomenon started as a small peace initiative by two survivors.
Protestors lashed out at the system reflecting their perceived apathy against politicians and asked authorities to take action and guarantee people security instead of providing mere 'lip service'.
Women and children lit candles and bowed their heads in prayer at several venues.
In Bangalore, some banners demanded war against Pakistan as rallyists showed a mix of compassion and rage while displaying their emotions. 'Politicians, get out', read a banner in Hyderabad while another said 'politicians should take responsibility'.
At the Gateway, a sea of humanity gathered and the national anthem was sung as tears streamed down the face of several people with anxiety and anguish writ large on their faces. Strains of 'Bharat Mata ki Jai' and 'Vande Mataram' also rent the air triggering patriotic fervour.
 
A group passed around armbands asking people to wear it and keep it till 'we get results'.
Kakkar implored people to stop paying bribes "if we have to make a new start".
Rallyists condemned leaders for laxity against terrorism as they kept spontaneous vigils and converted anger into call for 'change'.

Text messages by the dozen called for Mumbaikers to 'tell the leaders and politicians that we want our safety'.
 
At the Jantar Mantar, Zulfikar Ali, a software engineer, said the only way to address the 'crucial and distressing' issue of terrorism is by becoming a part of the solution.
"After all, as along as India is 'of the people, for the people, by the people' we will be fully responsible for the change that we want to see in her," Ali said.
Image: A banner calls upon people to join a marathon supporting peace on December 27, at the Gateway of India.
Text: PTI | Photograph: Rajesh Karkera

Also Read:
'Today is national shame day'
Salute our Heroes

Prayers for the victims