Home > India > News > First Look


Discuss |
Email |
Print | Get latest news on your desktop


Rice arrives in India; to meet Pranab, Advani

December 03, 2008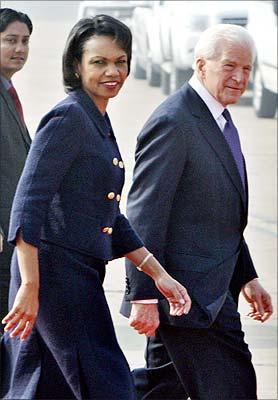 United States Secretary of State Condoleezza Rice [Images] arrived in New Delhi [Images] on Wednesday on a day's visit, during which New Delhi is expected to share with her evidence on the Mumbai terror strikes, pointing towards involvement of 'elements' based in Pakistan.
Rice, who has been asked by President George W Bush [Images] to visit New Delhi, will meet External Affairs Minister Pranab Mukherjee and Leader of Opposition L K Advani [Images].
"I want to consult with the Indian government on what we can do to help," she told journalists accompanying her.
India is ready with evidence, including intercepts like records of satellite phones used by the terrorists, which will be shared with her, sources said.
Investigators have found that all the 10 terrorists came from Karachi by sea and during the three-day mayhem, they received 'guidance' from Pakistan.
New Delhi is expected to impress upon Rice that Islamabad [Images] needs to act in a concrete manner to end terror by closing down training camps and handing over the wanted men, failing which it would be difficult to carry on with the composite dialogue.
Rice has already set the tone for her visit by saying that Islamabad must 'follow evidence wherever it leads and lend absolute and transparent' cooperation in the probe.
Bush had asked Rice to cut short her visit to Europe and travel to New Delhi amid rising tension between India and Pakistan in the aftermath of the Mumbai carnage.
Image: US Secretary of State Condoleezza Rice with US ambassador David Mulford after her arrival at New Delhi's Air Force station on December 3.
Photograph: Raveendran/AFP/Getty Images