August 25, 2008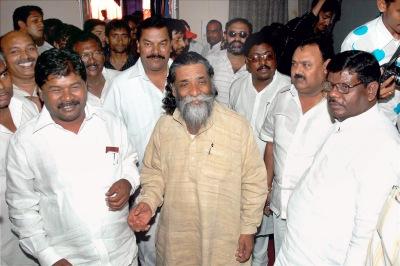 Shibu Soren will take oath as chief minister of Jharkand on Wednesday for the second time in three years after Governor Syed Sibtey Razi invited the Jharkhand Mukti Morcha supremo on Monday night to form the new government and asked him to seek a trust vote on or before September one.
Senior JMM legislator and former deputy chief minister Sudhir Mahato said Soren will take the oath around 1600 hours on August 27 at the Morabadi ground, capping days of political manoeuvrings.

Mahato did not give any details whether any other minister will take oath along with the 64-year-old tribal leader.
Raj Bhavan sources said the Governor has asked Soren to seek a trust vote on or before September one.
The Governor's invite came hours after the leader of the 17-member JMM armed with crucial support of four Independents, including outgoing chief minister Madhu Koda staked claim to form the government after cobbling a majority, which also had the backing of the Congress and the Rashtriya Janata Dal.
After assuming office in March 2005, the tribal leader had to resign within nine days after failing to muster a majority in the House.
Soren met Razi and submitted a list of 42 legislators supporting him after obtaining letters of support from reluctant Independent legislators Madhu Koda and Stephen Marandi, the outgoing deputy chief minister.
"I have submitted a signed list of 42 legislators," Soren said before being asked to form the government.
JMM's student's wing head, Hemant Soren said the list comprised legislators from JMM (17), Congress (nine), RJD (seven), United Goan Democratic Party (two), Jharkhand Party (one), Nationalist Congress Party (one), Forward Bloc (one) and four independent MLAs --- Madhu Koda, Stephen Marandi, Harinarai Rai and Bhanu Pratap Sahi.

Image: JMM chief Shibu Soren with Independent MLAs.
Reportage: PTI | Photograph: PTI Photo