Home > India > News > First Look


Discuss |
Email |
Print | Get latest news on your desktop


Joe Biden is Obama's running mate

August 23, 2008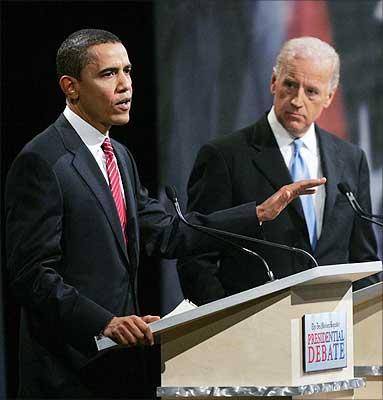 Senator Joseph Biden, an influential Congressman supporting landmark Indo-US nuclear deal, was on Saturday picked up by Democratic presidential candidate Barack Obama [Images] as his running mate.
In 2020, India-US will be two closest nations: Biden
The 65-year-old Democrat Senator, who had suggested that helping India to meet its growing energy needs will be in the interest of the US, emerged as Obama's choice after a long political suspense as other contenders gradually fell away, media reports said.
Nuclear deal is in US interest: Biden
Biden, chairman of the powerful Senate Foreign Relations Committee, brings years of experience that could help counter arguments that an Obama administration would be inexperienced on foreign policy.
An interview with Senator Jospeh Biden
The influential Congressmen will be the key player in moving the US-India civilian nuclear agreement forward in Congress when the final package of the deal gets there.
Biden, who is currently serving out his sixth term, also ran for the 1988 and this year's Democratic presidential nomination but dropped out. He was first elected to the Senate in 1972 at the age of 29.
'No N-deal if there's arms race'
Biden will make his first big speech as the vice presidential candidate on Wednesday -- the third night of the Democratic convention.
Biden recently lauded Prime Minister Manmohan Singh [Images] for deciding to go ahead with the deal notwithstanding the withdrawal of the Left Front, and expressed hope that the deal could be completed before the Congress adjourned.
Closing N-deal very difficult now: Biden
"I am going to push like the devil if they (India) get their end done to do it," he had said as late as last month in an interview with Rediff India Abroad's Managing Editor Aziz Haniffa.
In of his many interviews to Rediff India Abroad's Washington, DC-based Haniffa, Biden in fact says that by the year 2010 India and the US will have the greatest partnership.
The US-based India Abroad, the newspaper owned by Rediff.com, in fact is the only South Asian publication to have done an exclusive with Biden.
On getting the news of Biden's nomination, Aziz Haniffa, en route to travelling to Denver for the Democratic convention next week, recalled Biden's tremendous links with the Indian-American community, and said he has been the beneficiary of several fundraisers hosted by Indian Americans, notably by multi-millionaire IT professionals like Hemant Kanakia and Ken Bajan in Washington, DC. Biden is also a close friend of Swadesh Chatterjee, winner of the India Abroad Community Leader of the Year 2006 who has worked with the Senator to push the nuclear deal through.
Image: Obama with Biden during a presidential debate in Iowa.
Photograph: Chris Gannon/AFP/Getty Images
Also Read:
Who will be Obama's VP?
Barack Obama, in his own words