Home > India > News > First Look


Discuss |
Email |
Print | Get latest news on your desktop


Finally, Chiranjeevi announces entry in politics

Mohammed Siddique in Hyderabad | August 17, 2008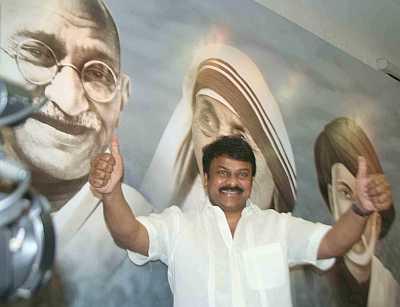 Ending a year-long speculation, Telugu superstar Chiranjeevi [Images] on Sunday announced his entry into politics and said pro-poor policies and social justice will be his party's main agenda.
Countdown begins for Chiranjeevi's D-day
"I will do things differently so that the benefits of development reach the last man in the queue. Andhra Pradesh is the richest state but its people are the poorest. I will work to fill the growing gap between the rich and the poor. After 30 years in the glamorous film world, I have decided that my path goes towards politics to serve the people. I dedicate myself to the service of the people," Chiranjeevi told mediapersons.
 
Addressing a crowded press conference, the superstar said, "My fight is not against any other politician but against hunger and poverty".
Chiranjeevi's new political office

Maintaining the suspense over the name, flag and the agenda of his proposed party, Chiranjeevi said that he would announce the details of the party at a public meeting at Tirupati on August 26, the birthday of Mother Teresa.
 
The 56-year-old star, who has worked in over 200 movies, said that he was leaving the film industry with a heavy heart. "But I am not closing the door on acting. If a serious and educative film comes my way and it has a message for the people, I will definitely do it," he said.
Chiranjeevi prays for political fortune?

Calling the 'role' of a politician a new one, he said, "I can't play this role. I have to live this role."
 
He said the inspiration to enter politics came from lakhs of supporters who had been urging him to take the plunge. "But the driving force behind my decision is former President APJ Abdul Kalam [Images], who urged me to enter politics because not many people were interested in becoming politicians. They think politics is only for crooks and self centered people. This concept has to be changed".
 
Chiranjeevi also said that he was inspired by Gandhiji, Mahatma Phule, Baba Ambedkar, Mother Teresa and N T Rama Rao.
Chiru's party might be called 'Jai Chiranjeeva'
When queried if he wanted to become the chief minister of the state, Chiranjeevi said, "That will be decided by the people."
 
He also rejected the criticism that as a film actor who led a luxurious life, he had no idea about the sufferings of the people. "I have spent thirty long years in the film industry, but I come from the humble family of a police constable, and have witnessed financial difficulties. We had five acres of land, which we cultivated and I know the difficulties faced by the farmers".
 
When asked about his stand on issues like the demand for a separate Telangana state, Maoist activities and categorisation of Scheduled Castes, Chiranjeevi said, "These are very sensitive issues and we will take a stand after due deliberations".