Home > India > News > First Look


Discuss |
Email |
Print | Get latest news on your desktop


J&K separatists protest against 'blockade'

August 16, 2008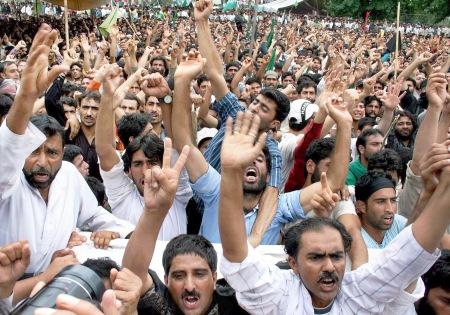 Thousands of slogan shouting people, who converged at Saffron-rich town of Pampore to pay homage to the slain separatist leader Sheikh Abdul Aziz on Saturday, vociferously endorsed the call for opening of the Srinagar-Muzaffarabad road.
The call was reiterated by moderate All Parties Hurriyat Conference chairman Mirwaiz Moulvi Umar Farooq on Saturday.
"We cannot remain dependent on the Srinagar-Jammu national highway after the blockade. We have to think of alternatives, and the alternative is available in Srinagar-Muzaffarabad road," the Mirwaiz told a cheering crowd of thousands of people shouting pro-freedom slogans.
In Jammu, a tangled tale is written in blood
The Mirwaiz again reiterated his demand, in less than 24 hours, of throwing open the Srinagar-Muzaffarabad road apart from other road links.
Using every conceivable mode of transport, people of all ages from all the nooks and crannies began their march to Pampore from early hours on Saturday for a big rally in the south Kashmir town on a call given by the two groups of separatist, APHC.
When will the window of peace open?
Saturday's rally was held at the Eidgah grounds in Pampore town, famous for growing world's best saffron.
In the bandh-hit Kashmir valley, vehicles carrying the people lined up at the Srinagar-Jammu national highway that passes through the Pampore town.
All senior separatist leaders, including Mirwaiz Moulvi Umar Farooq, Syed Ali Shah Geelani, Mohammad Yasin Malik, Shabir Ahmad Shah and Naeem Ahmad Khan were present at Saturday's rally
Appeasement is never good for a nation
Mirwaiz said the government of India should announce the phased withdrawal of 8 lakh troops from the Valley and release all the detenues lodged in various jails.
The announcement drew vociferous endorsement from a highly charged crowd.
In a resolution passed at Saturday's rally, the Mirwaiz said "tri-partite talks should be held to resolve the issue as per the wishes of the people."
He asked people to join the march to the United Nations office in Srinagar [Images] on Monday, called by the APHC.
Syed Ali Shah Geelani also addressed the gathering and called for "resolution of the 60-year-old Kashmir issue for peace in the region."
"We are not against the people of India. We want promises made to people of Kashmir by the Indian leadership fulfilled," he said.
As the gathering was dispersing, a strong mob of nearly four thousand attacked the house of a counter insurgent, Papa Kishtwari in the Pampore town and brought it down brick by brick besides torching his vehicle parked in the compound.

Reportage: Mukhtar Ahmad & Krishnakumar P
Photo: PTI Photo