Home > India > News > First Look


Discuss |
Email |
Print | Get latest news on your desktop


We must be united against terrorism, says President

August 14, 2008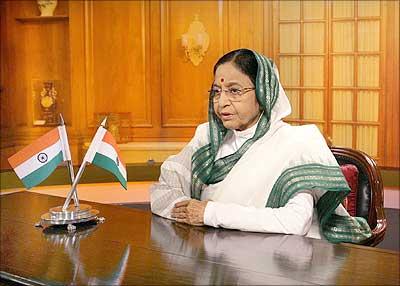 Against the backdrop of escalating violence in Jammu and Kashmir [Images] over the Amarnath land row, President Pratibha Patil [Images] on Thursday appealed for calm and said differences could be addressed through 'dialogue and reconciliation'.
In her second address to the nation on the eve of Independence Day, Patil made no direct mention of the simmering crisis but said "whatever the problem, whatever the cause, whatever the reason, there is no place for violence in our society."
Amid escalating violence in Jammu as well as Kashmir, the President stressed there all issues could be sorted out through dialogue and "the paths of peace and compromise can be complex and difficult."
Such steps "alone will enable the nation to grow and prosper," she said while appealing for maintaining calm in all parts of the country. "Wherever differences exist, all efforts should be directed towards reconciliation," she said.
"There have been instances in our country of people taking the law into their own hands and causing destruction to life and public property," she said without making any reference to the ongoing violence in J&K.
The President also focused on the growing threat posed by terrorism to national as well as international peace and security and regretted that terrorist groups continued to receive support and sanctuary.
"We must stand united against the threats emanating from terrorism. Terrorists, with their disruptive agenda, will never succeed in discouraging us from our resolve to build a strong India, or from working with our neighbours to eliminate this menace from our region, or from our commitment to forge co-operative relations with other countries across the world," the 73-year-old President said.
In India, we don't catch terrorists
"The ideologues of terrorism have little respect for human life. They incite violence and mindless destruction," she said.
The President said she was confident that the concept of India that is functioning in unison in a milieu of a vast diversity would continue to define the country's identity.
"We should pause and reflect on how our conduct and our actions are promoting unity. We must ask ourselves whether our actions are contributing to strengthening of the national fabric and bringing about tolerant thinking.
Tough test for President Patil
"We should demonstrate our ability to listen to each other, to understand each other and if perceptions do not agree, give to the others the freedom to hold their views," she said.
Reminding the people that they have duties towards the country, society and family,she  said in discharging them there was "an obligation to act responsibly."
Patil also touched upon energy security in her speech and said, "as a developing country, our demands for energy are growing. We cannot let lack of energy become a constraint on our ability to deliver high levels of growth.
President Patil skips meetings to watch debate                                                   
"With the challenges of increased oil prices and climate change, the question of energy security confronts us. We need to look at energy mixes that are sustainable in the long run and are cleaner sources of energy, gradually making deliberate shift to renewable energy," the President said.
She said it should be the country's national mission to begin exploring ways in which new sources of energy can be harnessed viably.
"Technologies increasing efficiency in energy-intensive sectors need to be developed...any contribution to save energy is a step towards environment protection and in saving the wide diversity of flora and fauna on the planet," she said.
When President Patil picked up a gun
Patil said due to the government's efforts and perseverance, many achievements have been made by the country. "But there are several tasks that await completion and new challenges that need to be addressed. A nation's work never ends," she said.
Referring to the government's flagship programmes for improving the lives of the people, the President said those involved in the implementation of development and social welfare schemes must work with dedication and zeal and without causing delays.
"Implementation done in a transparent and accountable manner will ensure that welfare schemes reach the genuine beneficiaries in a timely manner. Thus, preventing corruption in our system and enhancing efficiency in governance," she said.
Advocating special attention for the development of agriculture and rural areas, Patil said no one should forget that the food security of the country is dependent on the growth of its agriculture.
"Seventy per cent of our population lives in villages and is dependent on agriculture. Therefore, the development of India will not be comprehensive or complete unless there is development in the rural areas and increased agriculture productivity," she added.
The President said social evils like dowry, female feoticide, discrimination against girl child, domestic violence, tobacco, drugs and alcohol were blocking the country from becoming a progressive nation.
"We must look at a nationwide addiction focused eradication programme. Eliminating addiction and fighting social evils can be a slow process as it involves changing attitudes," she added.
Stressing for inclusion of women in development programmes, the President said, "Real development cannot take root if it bypasses women, who represent the very pivot around which social change takes shape."
Image: President Pratibha Patil addresses the nation on the eve of Independence Day.
Photograph Courtesy: Rashtrapati Bhavan [Images]