Home > India > News > First Look


Discuss |
Email |
Print | Get latest news on your desktop


Fighting rages in South Ossetia; 1,500 killed

August 09, 2008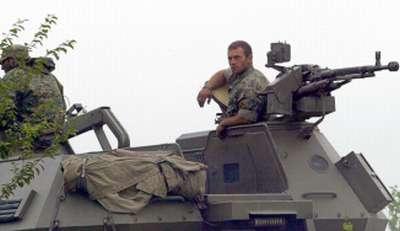 Locked in a fierce battle with the Georgian troops, Russian security forces on Saturday bombarded key military bases in the breakaway South Ossetia province for the second straight day as Moscow [Images] claimed that 1,500 people were killed in fighting in the sensitive region.
Russian Foreign Minister Sergey Lavrov said  some 1,500 people had been killed in the fighting after Moscow sent armoured units across the border following the Georgian action against Russian-backed separatists.
"Now our peacekeepers are waging a fierce battle with regular forces from the Georgian Army in the southern region of Tskhinvali (the provincial capital)," an unnamed Russian military official was quoted as saying by Interfax.
Russia [Images] also said that 12 of its soldiers died in the clashes.
Georgian President Mikhail Saakashvili said he had signed a decree on "a state of war". "Georgia is in a state of total military aggression," Saakashvili told a televised meeting of his national security
council. However, he said his country was still willing for ceasefire. Georgia, a staunch American ally, also said that it was withdrawing its contingent of 2,000 troops from Iraq to help deal with the crisis.
The violence in the sensitive region escalated after Georgian forces moved on Thursday night to regain control of the region, which has had de facto independence since a war against Georgia that ended in 1992.
 Russian President Dmitry Medvedev vowed to defend South Ossetia's civilians, most of whom were given Russian citizenship.
The regional capital, where inhabitants are said to be sheltering in basements without electricity or phone lines, is reported to be devastated.
Image: Georgian soldiers sit in an armoured personnel carrier during armed conflict with separatists in Gori on Friday.
Photograph: Getty Images