Home > India > News > First Look


Discuss |
Email |
Print | Get latest news on your desktop


Pakistan PM promises probe into Kabul attack

August 02, 2008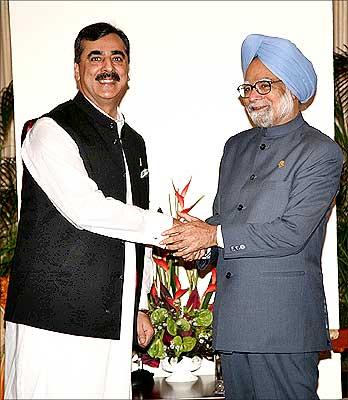 Prime Minister Manmohan Singh [Images] was very frank on his first one-on-one meeting with his Pakistani counterpart Yousuf Raza Gilani on the sidelines of the 15th SAARC meet in Colombo on Saturday.
In the meeting, Dr Singh firmly took up the terrorist attack on the Indian embassy in Kabul, the recent violations on the Line of Control and the spurt in infiltration.
But both the leaders expressed determination to overcome the "recent setbacks" and move "back on the track of improved ties".
When the PM raised the Kabul attack issue, Gilani said he would conduct an investigation into the attack.
However, he did not specify any time frame of the proposed probe, nor did he mention about any parameters.  
When Gilani said all political parties in Pakistan preferred improved relationship with India and maintaining a ceasefire, Dr Singh said, "That (maintaining the ceasefire) is indeed the goal of the Indo-Pak peace process.  But recent events have made the progress difficult."
Describing ceasefire as the most important confidence-building measure, the Pakistan PM said his government would do everything to maintain the truce.     
Foreign secretary Shivshankar Menon described the PMs' encounter as  "a candid, open conversation between two people who want to see the way forward".  
Text: Nikhil Lakshman in Colombo.  Photograph: Jay Mandal/On Assignment.  
Image: Manmohan Singh with Yousuf Raza Gilani in Colombo on Saturday.