August 01, 2008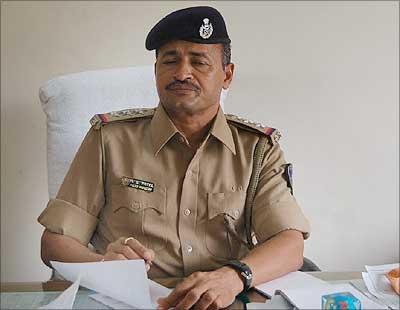 Police Inspector R S Patel would have had little inkling of what lay ahead when he reached Umra police station on the morning of July 27.
It was his heroics that day that could have perhaps led to a panic amongst those who placed the bombs in Surat [Images] city.
At around 11.25 am, he got a call from a police informer who asked him to immediately rush to a spot near Nupur Hospital in the Citylight area of the city.
What confronted him was a C-shaped green packet. It took him no time to realise that it was sophisticated bomb. Though not an expert at defusing bombs, Patel was trained in handling bombs during his stint at the elite National Security Guards.
Immediately he sprung into action. "It was my common sense that helped me defuse the bomb. Though I learnt only the basics of defusing bombs at the NSG, I knew I had to do it."
"I tried to cut a few wires with pliers but the thing will not come out. Immediately I asked one of my officers to get scissors and cut the wire. Later I removed the battery and the detonator," he said with a smile of satisfaction running across his face.
He then informed his superiors, who in consultation with Surat's Police Commissioner R M S Brar, sent an alert across Surat city. The police machinery immediately got into action and started combing operations.
At least 23 other bombs were found in the city later; some hanging from trees, some on flyovers, some from light metre boxes and some along with banner hoardings on Varacha Road, Surat's diamond hub.
"Perhaps this could have made those carrying the other bombs (this was the first one) drop them wherever they found it to be safe," says Inspector Gadhvi, who accompanied Patel to the site.
If this is indeed the case then -- though there are theories doing the rounds that the bombs were placed in Surat on July 26 -- it is PI Patel that Surat city must thank.
"I was just doing my duty," says the inspector when asked if his actions could have perhaps averted an Ahmedabad-like situation in Surat.
"Once you come across such situations a policeman never has fear in his mind. The only thing uppermost in our minds at such times is to defuse the bomb and take prompt action."
Photograph: Prasanna D Zore
Complete coverage: The Gujarat blasts