Home > India > News > First Look


Voices against China from Jantar Mantar

Sheela Bhatt | April 17, 2008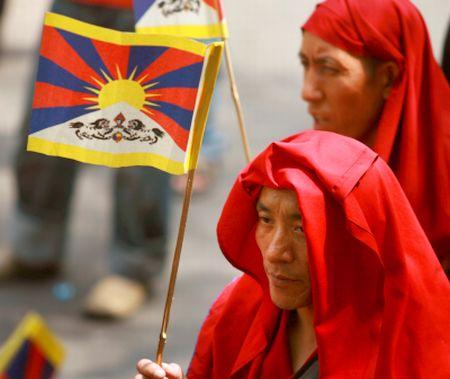 Right behind the famous Tibetan market on Janpath in New Delhi stands the famous Jantar Mantar where round the year people from all over India come to protest. They just protest and go away.
Coverage: Tibet Revolts
These days, new huge pandals (tents) have been erected at Jantar Mantar. One belongs to Falun Gong, the banned organization of China, and the other to Tibetans.

More than 1000 Tibetans are squatting at Janta Mantar with passion for freedom in their heart. They are united, agitated and strong.

Young boys and girls shout slogans against China and its President, Hu Jintao.
Most of their sloganeering is in Hindi.
Leave Tibet [Images], leave Tibet
Bhago China, Bhago. (Go away China)
Hu Jintao... abuse... Hit him with shoes.
Murdabad, murdabad! Hu Jintao murdabad.
(Down with Hu Jintao)
Yahi hamara nara hai, Tibet desh hamara hai.
(Our slogan is one, Tibet is ours).
Long live Tibet-India
Boycott Chinese goods.
Tsering, a frail woman who is also part of anti China rally, tells rediff.com, "I am a housewife in New Delhi. My husband is a cook. Two years back, he escaped the miseries in Tibet. We have seen worst times. We want freedom of Tibet."
When asked further, she gave unsubstantiated shocking stories of Hans community's atrocities on Tibetans. She fully believes stories of Chinese suppression of Tibetans.

Chemui and Phurln, two young women, were also part of the rally. They were carrying Tibetan flags. Standing beside a poster that stated 'Security of Tibet is security of India', Phurln, a post-graduate from a Chennai-based college, said: "We are very anguished people. I came to India when I was six years old. Only two times in the last two decades I have met my old and ill parents when they came to India to meet me. It's a tough life."
She added, "We take care not to use abusive language in rallies, but we are all very angry. The Dalai Lama [Images] has said that we should not be violent. We don't want to hurt anybody. Tibetans want to embarrass the Chinese government for what they have been doing in Tibet. We don't want to hurt them physically."

Phurln calls her parents quite often, but her heart longs for them because they are old and unattended. She bravely said, "If you feel sorry to hear my story then hear other Tibetans stories. Compared to theirs, my story contains nothing to feel sorry about."
At 35, Yeshi Dolma is the youngest member of the Tibetan government-in-exile. She is busy arranging street protests in Delhi. 
"The Olympic torch is useless. We care for Olympics [Images] and respect it too. But after so much violence and brutal killings of human rights, how can you respect it," asked Dolma.
She said, "Members of Tibetan Youth Congress are aggressive, educated and frustrated. The Dalai Lama has adopted a 'middle path' approach. The Tibetan youth is waiting for China to solve the issue with Dalai Lama's approach, but they are doing nothing to find a solution. Rather, they are killing people."
With tears in her eyes, Dolma said: "In Tibet, all monasteries have been sealed. There is no light, no food. Many are starving in remote places."
The Tibetan refugees' road show in New Delhi is quite organized. They have enough flags, T-shirts, posters and hoardings. There is non-stop supply of water bottles. A huge shed has been erected to accommodate some 100 people. Alongside the road a small exhibition of disturbing pictures of the atrocities of Chinese government in Lhasa is on display. In front, scores of lamps have been lit to pay tribute to Tibetans who have died in the recent violence in Tibet.
More than 40 per cent of the Tibetans on the road were monks and most of them had arrived from Karnataka. Acharya Yeshi Phuntsok, lawmaker in the Tibetan Parliament-in-exile and a monk said, "We are not against the torch rally. That is not our aim. It is a small event. Our aim is bigger and better."
"Nothing will happen tomorrow. There won't be violence. We will peacefully take out a rally and people of world will be watching," assured Yeshi Dolma.

Reportage: Sheela Bhatt | Photograph: Uriel Sinai/AFP/Getty Images