Home > India > News > First Look


Preeta Bansal is part of Obama's inner circle

April 15, 2008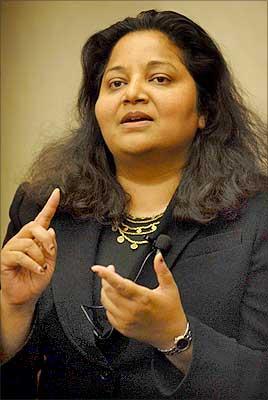 Every President, and prime minister, needs a dazzling team behind him/her, we know that too well.
The need for a good team is more acute if you hope to become a President or prime minister.
A few months ago, not many would have given United States Democratic Presidential aspirant, Senator Barack Obama, a chance in hell; certainly not when it became obvious that the Democratic race was boiling down to just two: Hillary Clinton, and him.
The Clintons, after all, come with a huge advantage, whereas Obama was not all that well-known. But surprise, surprise, as the race heads to the Pennsylvania primaries, it is Obama who is ahead and Hillary who needs to catch up.
If Obama's amazing run can be credited to his team, it is heartening to note that the second in command in the area of immigration is an Indian American, Preeta Bansal. The 42-year-old lawyer is a partner at Skadden, Arps, slate, Meagher & Fom in New York City.
What makes her choice even more interesting is the fact that Bansal was part of Bill Clinton's [Images] White House and Justice Department in 1993-96. She was also the first Indian American to head the US Commission on International Religious Freedom, in which post she got to know about Obama's foreign policy work.
Actually, she had known Obama from her days at Harvard Law School, and was brought in for the campaign by common friends.
The Obama campaign's Immigration Policy Advisory Committee has some 40 members, all coming from diverse backgrounds, and is headed by Mariano-Florentino Cuellar, law professor at Stanford University. The 35-year-old Cuellar too was part of Bill Clinton's 1996 re-election campaign and is known to his inner circle as Tino.
Preeta Bansal advises Obama on international human rights, legal issues, foreign policy, women's issues, and outreach to Asian-Americans. He is 'able to advance progressive principles, but he's not one of those starry-eyed liberals,' Bansal told the publication, National Journal. 'With him, two plus two equals five, not four. The whole is greater than the sum of the parts.'
Photograph: Paresh Gandhi