April 13, 2008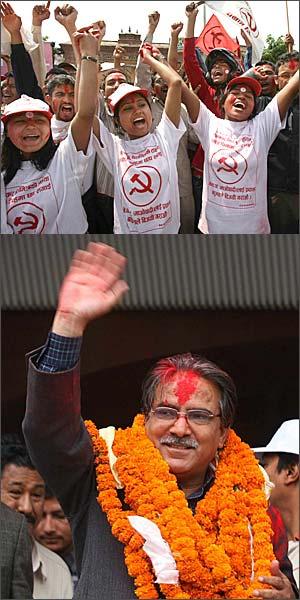 Riding on a spectacular showing in the landmark elections, the Maoists were set to head Nepal's next government, with their leader Prachanda declaring that he would develop a new relation with India.
Having already bagged 61 out of 112 seats for which results were announced, the former rebels, who fought a decade-long insurgency to oust the monarchy, were on course to become the single largest party as they were also ahead in most of the remaining 128 constituencies.
As results trickled in, 54-year-old Prachanda, whose real name is Pushapa Kamal Dhahal, said Nepal would develop a new relation with the Indian leadership.
It is quite important to have good neighbourly relations with India, he said, adding, " A good understanding with Delhi can create a new basis of unity with India."
Prachanda, a former teacher and whose Maoists halted their insurgency to end the 240-year monarchy two years back, also said Nepal will maintain equal distance both with India and China in political terms.
The 240 seats, for which the tally is underway in the 601-member assembly, will be filled on a first-past-the-post basis while another 335 will be decided by proportional representation and 26 nominated by the cabinet.
Two other parties -- Prime Minister Girija Prasad Koirala's Nepali Congress and the Communist UML-- who were original favourites, were far behind and have so far won only 20 and 17 seats respectively.
Several of the bigwigs of the Nepali Congress that dominated Nepal's politics fell by the wayside in the elections, which were held after a gap of nine years. These polls will decide the country's future political system and the fate of the sidelined Shah dynasty.
The former rebels were contesting their first election after giving up a decade-long armed struggle in 2006.
Several of NC's top leaders suffered humiliating defeats including acting President Shushil Koirala (Banke) and senior NC leader Sujata Koirala, daughter of Prime Minister Girija Prasad Koirala (Sunsari).
CPN-UML General Secretary Madhav Kumar Nepal lost from Kathmandu constituency and resigned from the post.
Prominent CPN (Maoist) winners included party chairman Prachanda alias Pushpa Kamal Dahal, second-in-rank leader Baburam Bhattarai, senior leader Ram Bahadur Thapa, spokesman Krishna Bahadur Mahara, central members Dev Gurung, Barsha Man Pun, Hisila Yami and Pambha Bhushal.
Prachanda won from both Rolpa and Kathmandu segments.
The Maoists' stunning showing came on a day when embattled King Gyanendra expressed satisfaction over the enthusiastic participation in the election by the people,  committed to protecting national integrity.
In his message on the occasion of the Nepali New Year, he hoped that the Nepalese people would be able to establish peace and democracy and protect national interest. The King's positive remarks about the election, which aims to abolish the centuries-old institution of monarchy, have come as a surprise, according to political analysts.
Maoist supremo Prachanda, during his election campaign last month, had called on all nationalist forces surrounding the King to forge an alliance.
Prime Minister Koirala, in his New Year message, wished for building a stable, peaceful and prosperous new Nepal and said the serious responsibility to begin a new era of change has come to the people.
He asked all to work together with the spirit of cooperation to build the nation.
Two ethnic Madheshi parties, who organised a strike this year demanding autonomy for the region called the Terai, have jointly won seven seats so far.
The outcome of Thursday's election, the centrepiece of the peace deal, has come as a surprise since the predictions were that the former rebels would emerge as the third largest party.
Complete results are expected around April 20 at the earliest as counting is slow besides the election being a complex mixture of direct and proportional systems.
Image: (Top) Supporters of the Communist Party of Nepal-Maoist celebrate their victory in Nepal elections and former rebel leader and chairman of the CPN-M Prachanda at a press conference in Kathmandu.
Photograph: Pedro Ugarte/AFP/Getty Images