April 09, 2008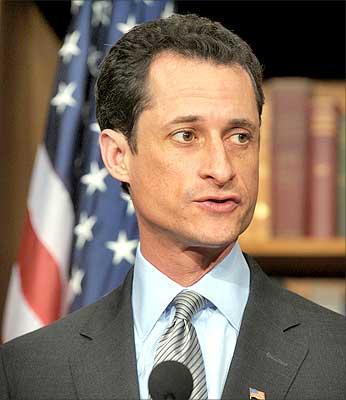 Representative Anthony Weiner, the swinging bachelor Brooklyn Democrat, was fulsome in his praise, a few months ago, of Huma M Abedin; reporters who recorded his comments did not suspect however the romance that was budding between the two.
"This notion that Senator [Hillary] Clinton is a cool customer -- I mean, I don't dispute it, but the coolest customer in that whole operation is Huma," he told The New York Observer after watching her with Senator Clinton on a campaign trip in historic Selma, Alabama.

"There were a hundred things that could have gone wrong," he said. "And Huma was sort of the all-purpose trouble-shooter of first response. It was a tour de force, and what was most impressive is that she maintained a level head the whole time."
"In fact, I think there's some dispute as to whether Huma's actually human or not," Weiner added.
Huma -- a measure of her profile is accorded by the fact that her first name is in itself recognisable to most of DC's political class -- is Hillary Clinton's secret weapon, her Girl Friday, and her confidante for many years.
Clinton, the gossip goes, is so possessive over the alluring Huma that she keeps husband Bill Clinton [Images] at a distance from her aide.
There has been an almost Garbo-esque mystique about Huma, but part of that dissipated recently after the New York Post spied on the 32-year-old daughter of an Indian father and Pakistani mother (according to The New York Observer) in New York recently.
"Huma Abedin, the aide who is rarely out of Hillary Rodham Clinton's sight, has been seen with bachelor Rep Anthony Weiner on the campaign trail," announced the Post.
Shortly before Clinton arrived for a fundraiser last week at the Hiro club in the Meatpacking District, Abedin was spotted going into the Maritime Hotel around the corner with Weiner, the Post added.
"If they were trying to keep their affair a secret, you'd think they'd find someplace where political reporters wouldn't be walking by," the Post mentioned.
In the aftermath of the outing of the romance, no one has yet asked Weiner, who plans to run for the New York mayor's post next year, whether he has finally discovered if Huma is human, or just plain divine.
The two make an interesting match. Weiner is ultra liberal, but DC insiders believe, Huma, who was born in Michigan but spent over 16 years in Saudi Arabia from age 2 and came to America for her college studies, is quite conservative.
According to various accounts from Huma acquaintances interviewed by the Observer, "She's Lebanese, she's Jordanian, she's Iranian, she's 26, she's 36, she has two children, she lives with the Clintons."
The Observer said, 'Hillary's secret weapon' had an Islamic scholar of Indian descent for her mother. Her father died when she was 17; her mother, a renowned professor in Saudi Arabia, is Pakistani, the newspaper reported, without revealing the names of her parents.
Huma, who recently bought an apartment in DC, stays with her sister in Manhattan when she comes to New York, newspapers say.
And "not, as one popular rumour has it, in Chappaqua with the Clintons," The Observer wrote. She has no children and has never been married, it added.