Home > India > News > First Look


Karnataka poll on May 10, 16, 22; counting on 25th

April 02, 2008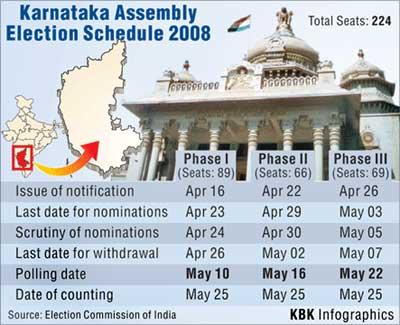 Assembly elections in Karnataka will be held in three phases on May 10, 16 and 22, the Election Commission announced on Wednesday.
The counting of votes will be taken up on May 25, Chief Election Commissioner N Gopalswami told a press conference in New Delhi announcing the election schedule.
While 89 constituencies will go to polls on May 10, 69 constituencies will go to polls in the second phase and the remaining 66 seats in the 224-member house will witness the electoral exercise in the last phase.
The model code of conduct will come into force immediately, Gopalswami said.
The issue of notification for the first phase of polls will be April 16 and the last date of filing of nominations will be April 23. Scrutiny will be done the next day and last date of withdrawal will be April 26.
For the second phase, nominations will begin on April 22 and the last date for the purpose will be April 29 followed by scrutiny the next day. The last date for withdrawal of nominations is May two.
Nominations in the final phase will begin on April 26 and the last date for nominations will be May three. Scrutiny will take place on May five and the last date for withdrawal is May seven.