Home > News > First Look


Meet China's Generation Next

The Rediff News Bureau | October 22, 2007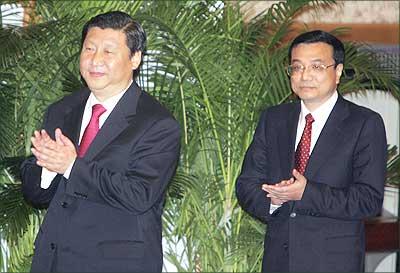 President Hu Jintao signaled the next-generation of Communist Party of China's leadership when he introduced the new nine-member 'standing committee of the politburo' at Beijing's [Images] Great Hall of the People on Monday, the party's first plenary since its five-yearly congress got over recently.
The nine members were paraded on a stage before local and foreign media in order of seniority, but of these all eyes are on two fifth-generationers in the party -- Xi Jinping and Li Keqiang.
The two, also the youngest among the four new members, were briefly mentioned by President Hu in his remarks, and are now in place to become party secretary and premier respectively when Hu and Premier Wen Jiabao step down in 2012.
Xi was the Shanghai party chief while Li was in charge of the industrial province of Liaoning.
Why India must watch China's Communist Congress
54-year-old Xi, the son of a former top government official, is considered part of the 'princelings' class, a term that refers to China's influential officials. He is also a champion of economic reforms, and has a reputation for being incorruptible.
His father, incidentally, was purged during the Cultural Revolution of 1966-76.
Xi is widely expected to take over former vice president Zeng's task of handling the party's day-to-day affairs, till he succeeds Hu.
The other fast-tracker, Li Keqiang became China's youngest governor in 1999 when, at the age of 43, he was appointed to Henan province. The other point in his favour is that of the four new entrants into the standing committee, Li is the only firm ally of Hu's, and comes from the Communist Youth League, regarded as Hu's power base.
Li will become executive vice-premier, stepping into the late Huang Ju's shoes.
Hu envisions the China of 2012
The members of the standing committee, and the 25-strong Politburo, are chosen by 204 members of the CPC's central committee.
The four vacancies in the standing committee were caused by three officials stepping down -- including Vice-President Zeng Qinghong -- and the death of Huang due to cancer in June.
The other two new members of the standing committee are He Guoqiang and Zhou Yangkang.
Image: Xi Jinping and Li Keqiang walk on to the stage as they are introduced by Chinese President Hu Jintao at Beijing's Great Hall of the People on October 22
Photograph: Teh Eng Koon/AFP/Getty Images