October 19, 2007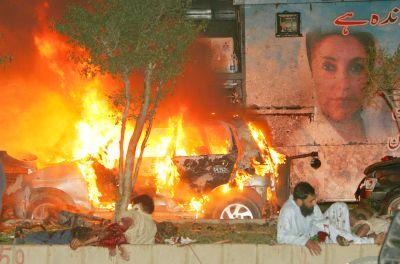 Former Pakistan Prime Minister Benazir Bhutto [Images] had a narrow escape when twin blasts ripped through her motorcade in port city Karachi leaving 165 people dead and over 200 injured.
Bhutto, who was making a grand homecoming after eight years in self-exile, was rushed from the site of the blasts to her home, Bilawal House, soon after the explosions past Thursday midnight, Pakistan People's Party spokesman Farhatullah Babar said.
"Bhutto is safe and was taken to her home in Karachi," he said.
Earlier, Interior Minister Aftab Ahmad Khan Sherpao said the toll was expected to rise. He added that the explosions could have been a suicide attack.
IGP, Sindh province, Zia Ul Hasan said Bhutto continued to face threats. The government of Sindh province announced that all schools would remain closed on Friday.
Bhutto has demanded the sacking of the chief of the Intelligence Bureau for failing to prevent the attack while President Pervez Musharraf [Images] has described it as a "conspiracy against democracy."


The former prime minister's husband Asif Ali Zardari has blamed a Pakistani intelligence agency for twin blasts.

'We blame one intelligence agency and we demand action against it... it is not done by militants, it is done by that intelligence agency,' Bhutto's husband Asif Ali Zardari told Geo News.
'Our people have died, our workers have died, they have sacrificed their lives for the sake of democracy in Pakistan,' he said.
Zardari and his two daughters had stayed behind in Dubai. The family had come to see off Bhutto before she left for Karachi on Thursday.
The blasts, which were heard from a distance, triggered panic among the thousands of PPP workers who had gathered across Karachi to greet Bhutto on her homecoming.
People ran helter-skelter as ambulances ferried the injured to nearby hospitals. The roads, which were choked with PPP workers, emptied rapidly after the explosions.
Bhutto's motorcade was making its way from Jinnah International Airport, where she had arrived in an Emirates flight from Dubai at 1.45 pm, to the mausoleum of Pakistan's founder Mohammad Ali Jinnah.
Though she left the airport at 3.30 pm, her motorcade had covered only about seven kilometres in nine hours due to the large number of people crowding the roads.
The mood among the people on the streets swiftly turned to anger, with many chanting anti-government slogans.
Capital city police officer Azhar Farooqi said "necessary measures" were adopted to protect Bhutto but the blasts occurred despite these precautions.
"We had a contingency plan to evacuate the VIP. That was put into action immediately and she was taken to Bilawal House," he said.
Senior government officials held a meeting in Islamabad  to review Bhutto's security and advised the PPP to ask her to restrict her movements and public engagements.

Musharraf and Prime Minister Shaukat Aziz had both asked the Pakistan People's Party chief to defer her homecoming and the government had said she faced a threat from pro-Taliban militants, especially rebel leader Baitullah Mehsud who warned that suicide bombers would be waiting to 'receive' her.

Image: Injured people await help at the blast site.
Reportage: Agencies | Photograph: Carl De Souza/AFP/Getty Images