October 18, 2007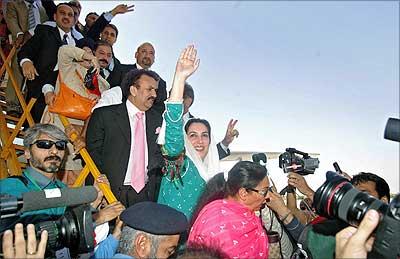 After eight years in self-exile, Pakistan's former Prime Minister Benazir Bhutto [Images] on Thursday touched down in Karachi.

A commercial flight carrying Bhutto from Dubai landed at about 1:45 pm local time (2:15 pm IST) at the Karachi International Airport.
The 54-year-old leader is accompanied by her London-based younger sister Sanam, two nephews, several close friends and party workers apart from a large media contingent.

Some 20,000 airport security personnel, policemen and paramilitary personnel as well as bomb disposal squads have been deployed in Karachi to protect Bhutto, who return was facilitated following secret parleys with President Prevez Musharraf for a power-sharing arrangement.
Bhutto will be using at least two bullet-proof vehicles with 'radio jammer' technology similar to the one being used to protect President Pervez Musharraf [Images]. At least two bullet-proof or resistant vehicles will be used by Bhutto from Karachi's Jinnah terminal to her residence at Bilawal House, Pakistan People's Party sources said, adding they apparently have the ability to defuse explosives after detecting them.
Musharraf promulgated an ordinance early this month, which granted amnesty to Bhutto in corruption cases, paving the way for her return ahead of the general elections, but its legality has been challenged in the Supreme Court.
In the face of threats of suicide bombings by pro-Taliban and Al Qaeda [Images] militants, authorities in Karachi have thrown a massive security blanket over the airport and the route to be taken by 54-year-old Bhutto to Mazar-e-Quaid, the mausoleum of Pakistan's founder Muhammad Ali Jinnah.
Several thousand flag-waving supporters chanting 'Benazir welcome' gathered outside the airport. On the streets of Karachi, thousands of PPP workers, who have converged on the city in caravans coming from the country's four provinces, danced to frenzied drum beats and chanted slogans, waving the party's flag.
Through the night, her supporters drove through the roads of the city in trucks and buses decorated with lights and burst firecrackers. Banners and posters featuring pictures of Bhutto and her father, late Zulfiqar Ali Bhutto, hung from almost every lamppost and power pylon.

Image: Benazir Bhutto waves to her supporters on arriving at the Karachi international airport.
Reportage: PTI | Photograph: Carl De Souza/Getty Images