October 13, 2007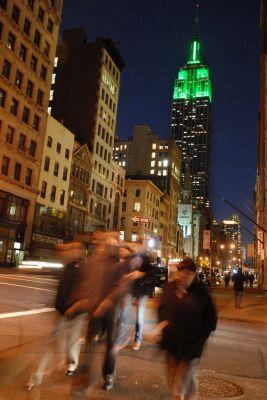 For the first time in its history, the Empire State Building in New York was lit in green in celebration of Eid-ul-Fitr.
It will be green till Sunday.
So far, the landmark tower has been lit in traditional colours every year only on the occasion of Christmas and the Jewish festival Hannukah. From this year on, lighting on Eid too will become an annual event.
At the end of Ramadan, Muslims throughout the world celebrate for three days to mark the end of Ramadan. In Islam, the colour green symbolizes a happy occasion.
Soaring 1,454 feet above Midtown Manhattan, the Empire State Building was recently named America's most favourite building in the poll conducted by American Institute of Architects.
Text: PTI | Photograph: Paresh Gandhi