Home > News > First Look


IAEA chief with AEC chief Kakodkar

October 09, 2007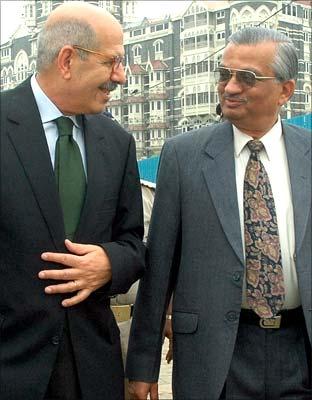 The International Atomic Energy Agency chief Mohammed ElBaradei met India's Atomic Energy Commission chairman Anil Kakodkar at the Bhaba Atomic Research Centre in Mumbai.
UN atomic energy chief ElBaradei began a three-day visit to India as the ruling United Progressive Alliance-Left alliance appeared headed for a break-up over the India-United States civil nuclear energy pact.
The IAEA head landed in Mumbai late on Monday amid a spike in tensions between the Congress and its Communist allies. 
Don't Miss! The nuclear straight hitter
Photograph: AFP/Getty Images