Home > News > First Look


First Look: The recipients of the Harmony Silver Award

October 01, 2007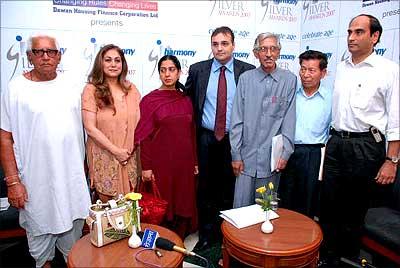 Wipro [Get Quote] chief Azim Premji [Images] and veteran actor A K Hangal are among the 10 senior citizens who will receive the Harmony Silver Award this year for their contribution to society.
Other recipients include badminton ace Shirish Nadkarni and Kashmiri poet Rehman Rahi as well as Deep Joshi, the chief of Pradhan, an NGO which works for tribal women's welfare.
Chewang Norphel, who is credited with creating artificial glaciers that support agricultural activities of over 1,500 farmers in Ladakh, will also receive the award.
"I was a civil engineer with the government and later joined an NGO. I just directed my efforts to conserve water for our people," said Norphel.
Ram Chander Sharma, who created the Jaipur foot, a prosthetic limb considered the cheapest and best in the world, is another recipient of the award. He said that over three lakh people had been fitted with the Jaipur foot since its creation in 1966.
"We will soon be sending a team to Africa to provide them to the victims of landmines," said Sharma.
Other recipients include Ravindra Kumar, who created the Angad tractor and 87-year-old Ayesha Chelekkodan from Kerala [Images], a great-grandmother of 12, who passed her Secondary School Certificate examination this year.
The awardees will receive a cash prize and a citation designed by artists Jaysri Burman, Neeraj Goswami and Deepa Mahajan.