November 29, 2007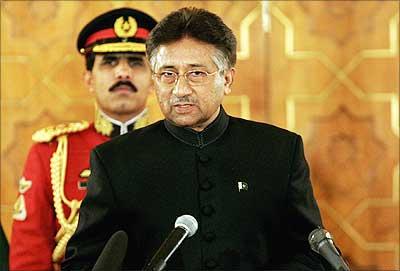 Pervez Musharraf [Images] on Thursday embarked on a new five-year term as a civilian President after shedding his military uniform, but rejected Western pressure to lift emergency, saying Pakistan wanted democracy but "we will do it our way".
The oath was administered to him by Chief Justice Abdul Hameed Dogar in the Aiwan-e-Sadr presidential palace, a day after Musharraf bowed to intense domestic and international pressure and stepped down as head of Pakistan's powerful military.
Dressed in a dark traditional tunic, a solemn-looking Musharraf took oath under the Constitution of Pakistan and not under the emergency regulations. He pledged to do his utmost to preserve and protect the nation.
"I am grateful to the Pakistani nation for placing this confidence in me...It is indeed a historic day and emotional day for me. This is a milestone in the transition of Pakistan to a complete essence of democracy," he said in a nationally telecast event attended by dignitaries, including diplomats, ministers and senior military officials.
The president also vowed to hold parliamentary elections as scheduled on January 8 despite threat of boycott by opposition parties. General elections will take place "come hell or high water," he said.
Musharraf welcomed as "good" for political reconciliation the return from exile of his old rivals, former prime ministers Benazir Bhutto [Images] and Nawaz Sharif, neither of whom were present at the ceremony.
"I only hope that they will move forward toward a conciliatory, civilised, democratic and political environment in the future," Musharraf said.
In his maiden speech after taking oath, Musharraf also lashed out at sacked Chief Justice Iftikhar M Chaudhry, accusing him of trying to "derail" Pakistan's transition to democracy.
Terming "most unfortunate", the actions of the now-deposed chief justice Musharraf said they were part of "a well-thought out conspiracy".
"It is most unfortunate that some elements of the judiciary, the ex-chief justice, tried to derail this stage of democratic transition and this conspiracy was affecting negatively on the functioning of justice and the sovereignty of parliament," Musharraf said.
"I had to act and I acted in the interests of Pakistan."
He also said that stepped-up military action had "broken the back of the spread of terrorism" in northwest Pakistan. The 64-year-old, who had handed over the charge of army chief to his trusted deputy Gen Ashfaq Kiyani, said, "I enjoyed every moment of my command (of the army) and described the Pakistan Army as the "greatest army of the world".
Image: Pakistan President Pervez Musharraf addresses the crowd after the swearing-in ceremony at the Aiwan-e-Sadr Presidential Palace in Islamabad on Thursday.
Photograph: Aamir Qureshi/AFP/Getty Images
Text: PTI