Home > News > First Look


Fare ride: All-woman taxis in Mumbai

Rediff News Bureau | November 26, 2007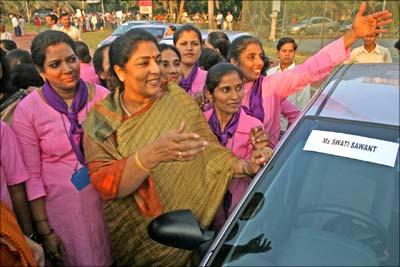 It's good news for women in Mumbai. A new, all-woman taxi service was launched on Sunday, to cater primarily to women travellers.
While many of the new private taxi fleets being operated in the city do have a sprinkling of women drivers, the new all-woman taxi service kicked off on Sunday.
The Priyadarshini Taxi service has 29 women drivers behind the wheels. The pink-coloured cab fleet, will also have counters at the airport.
Stree Shakti Kendra, the organisation which started this service said the vehicles are owned by the drivers, and will help make them independent. The organisation intends to expand the fleet size to 150 over the next year. Besides catering to woman travellers, the new service also plans to tie-up with BPOs and other organisations where women work late at night. Women employees would be comfortable being driven back home --or to work--in a vehicle driven by another woman.
Photograph: Arun Patil