November 19, 2007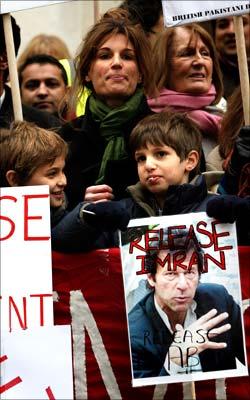 Jemima Khan [Images], former wife of detained cricketer-turned-politician Imran Khan [Images], has launched a 'Free Pakistan Movement' to protest the imposition of emergency in the country.
Jemima, who spent 10 years in Pakistan, is being backed by Pakistani-origin journalists, students, lawyers and doctors living in Britain.
The organisation will hold protests on a daily basis in London [Images] and other parts of UK against what she calls 'General Pervez Musharraf's [Images] second martial law.'
A group of students, lawyers and journalists protesting under the banner 'Campaign against Martial Law in Pakistan' have also joined hands with Jemima.
Imran Khan, chief of the Tehreek-e-Insaf party, was arrested on Wednesday during a student protest in Lahore [Images], less than 48 ours after sending a desperate text message to his solicitor in London saying that he feared for his life. He is now being held in a high-security prison.
Imran, who had gone into hiding soon after emergency was clamped on November 3, has been charged under Pakistan's Anti-Terrorism Act, which includes penalties that can carry death sentence or life imprisonment.

Also See: Is this Musharraf's worst crisis yet?
Image: Jemima Khan with her sons, protesting outside the Pakistan embassy in London on November 18, 2007.
Photograph: Cate Gillon/Getty Images