Home > News > First Look


Nandigram: Kolkata sheds tears

November 14, 2007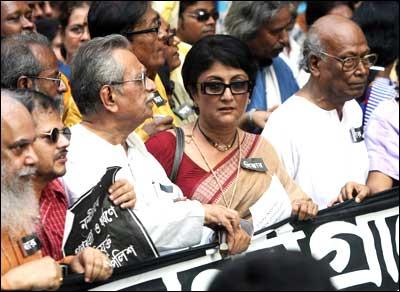 Thousands on Wednesday took to the streets in Kolkata to join a silent procession of intellectuals, film personalities, writers, painters and people from other walks of life to condemn the "recapture" of Nandigram by the Communist Party of India (M).
The procession started from the College Square in North Kolkata and marched to Dharamtollah in central Kolkata.
Film directors Mrinal Sen, Goutam Ghosh, Rituparno Ghosh, Aparna Sen [Images], painters Jogen Chowdhury and Shuvoprasanna, poet Joy Goswami, theatre personalities Bibash Chakraborty, Saonli Mitra and Kaushik Sen took part in the march, wearing black badges.
The demonstrators carried posters, which likened West Bengal Chief Minister Buddhadeb Bhattacharjee to his Gujarat counterpart Narendra Modi while another condemned the violence and demanded punishment for the guilty.
Image: Film-maker Aparna Sen, along with other intellectuals, takes part in a silent protest march in protest against the surge in violence in Nandigram.
Photograph:  Deshakalyan Chowdhry/AFP/Getty Images