November 06, 2007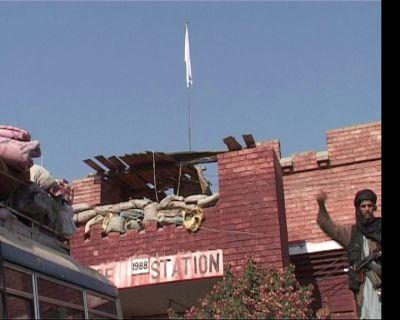 The imposition of emergency in Pakistan has not created any pressure on the Taliban groups operating in Swat district. The radical group has not only announced the imposition of Shariah but also removed national flags from all government buildings in the areas under their control.
Taliban militants have also taken over the police stations in Tehsil Matta, Khawazkhela and Charbagh. When this correspondent visited Matta police station after the imposition of emergency, Taliban militants had hoisted their flag in place of the Pakistan flag on the roof of the police station.
"We know that Musharraf mentioned Swat in his speech after imposing emergency but we are not scared," said Noor Islam, the Taliban commander in charge of Matta police station.
The Pakistan Army recently exchanged 25 Taliban fighters for 211 abducted soldiers in south Wazirastan.
Islam said that he has received an application against General Pervez Musharraf [Images] from a local citizen whose 6-year-old son was killed in the shelling by the security forces a few days ago.
"Taliban has the responsibility to arrest Musharraf and produce him in an Islamic court for killing a small boy," claimed Islam.
Islam added that by banning private TV channels all over the country, Musharraf had accepted that TV is a bad thing. "So at least he is agreeing with us on one point," he said.
Many shopkeepers in the main market of Matta blamed both the government and the Talibal for their troubles. According to them, the government was making things worse by bombing civilians while the Taliban group remained inflexible.
Meanwhile, Taliban leader Maulvi Fazalullah behaves like a ruler in Swat. He has appointed his governors in Tehsil Kabal, Matta and Khawazkhela. He has also ordered the setting up of Islamic courts to provide 'justice' in the areas under his control.
Fazalullah has even started maintaining a complaint register in his headquarter at Iman Dherai which has been bombed many times in the last couple of weeks by the Army.
This correspondent met Fazalulla's spokesperson Sirajudin at the headquarter and asked him why the Taliban had slaughtered soldiers even after their surrender?
Sirajudin claimed that the Taliban was not responsible for killing the soldiers.  "The locals were seeking revenge as the Army's gunship helicopters had killed a large number of innocents," he said.
He also evaded answering questions about the Taliban's opposition to polio vaccination. Sirajudin emphasised that, "We are just defending our areas, we want justice through Islamic law and our demand is not against the Constitution of Pakistan which has been suspended by Musharraf. We want Islamic law because Musharraf cannot suspend Islamic law".


The tension between security forces and the Taliban is escalating and over 50,000 people have fled from Taliban controlled areas. Many areas of this once tourist destination are becoming ghost towns. More than 500 hotels and restaurants have closed down in the last two months. Schools have remained shut in all the Taliban controlled areas.
Security forces have converted several restaurants and shopping plazas into their bases.
 I crossed more than 20 Taliban check posts between Koza Bandi to Matta. The government still officially controls the Saidu Sharif airport but the Taliban has surrounded the airport from both sides.
In Mingora city, which is still controlled by the government, nobody is ready to speak against Maulvi Fazalullah. Many people told us off the record that the 32-year-old Maulvi Fazalullah is not a Mufti, so he cannot issue fatwas. Many well respected Islamic scholars of the areas don't like him but they are not ready to speak out against him because he is popular among the locals.
Recently, Fazalullah received a donation of over 4 kilograms of gold from local women because he managed to 'arrest' and punish three people who had kidnapped a local woman.
People under Fazalullah's regime are safe from dacoits and thieves but they are not safe from the strikes by the Army's gunship helicopters. Many locals have requested Maulvi Fazalullah to start negotiating with the government to bring peace to the embattled area.
Official sources in Mingora claimed that more Army troops will be deployed in Swat and a new operation will be launched against the al-Qaeda sponsored Talibans.


"We will not surrender without the implementation of the Sharia which was first promised to the people of Swat by the Benazir Bhutto [Images] government," said Sirajudin.
He denied the Taliban's links with the al-Qaeda. But credible sources claimed that Maulana Fazalullah had sent Sirajudin to North Waziristan recently, where he met with  Taliban commanders.
Taliban commanders of Swat, Bajour, north Wazirastan and south Waziristan have decided to adopt a well coordinated and new strategy against the Pakistan Army.
In fact, Akbar Hussain, the Taliban appointed governor of Kabal was optimistic that they will soon establish their control in many areas of Punjab soon.
He said, "Democracy in Pakistan is a failure. Pakistanis are not getting justice. Your chief justice has been detained, the crime rate is increasing in Punjab and we are receiving requests from the people to help them. We will definitely help them after defeating the dacoits in Swat".
Text: Hamid Mir
Image: The Taliban flag at Matta police station in Swat (Photograph: Himran Alexander)