Home > News > Specials

The Rediff Special/ Sheela Bhatt

'A woman helping a woman! I love it!'

November 01, 2007


| | |
| --- | --- |
| Dr Nayna Patel | |
| | |
| | |
| | |
| | |
| | |
| | |
A woman helping a woman! I love it!' -- that's how Oprah Winfrey, the multiple Emmy-winning host of the hugely popular talk show that bears her name, described Dr Nayna Patel's crusade for surrogate motherhood.

CNN and Time both rank Winfrey as the most influential woman in the world; Life magazine at the end of the 20th century listed her as the most influential woman of the century. A word from her has been known to make, or break, reputations and careers.

Dr Patel is upbeat; she is also focused on clearing some of the misconceptions that surround what she does, and the surrogate mothers who carry a baby to gestation for someone else.
Responding to criticism that such women are mercenary, Dr Patel says surrogate mothers are motivated by other factors. "The woman feels happy that she is able to give happiness to a lonely couple," she told this correspondent.
"She does it because a childless couple wants a child, and she is in a position to help. The Indian woman gets ready to become a surrogate mother because she wants to help her own family, too. She is not spending the money drinking or partying."
Five years ago, surrogate motherhood was an alien concept in India. Dr Kamala Selvaraj of Chennai, daughter of Tamil matinee idol Gemini Ganesan and half-sister of Bollywood diva Rekha [Images], and the Gujarat-based Dr Patel were pioneers in the field.
Winfrey aired an interview with Dr Patel and with an American couple who sought her help last month; she has also said she would like the doctor to join her in Chicago for a future follow-up programme.
The talk show crew had travelled to the city of Anand, Dr Patel's base, along with Jennifer and Kendall West. Jennifer's uterus is damaged to the point where she cannot bear a child; she and her husband read about Dr Patel in Marie Claire magazine and decided to take her help.
Sonia (name changed), a poor Indian woman, is now carrying their baby in her womb. The embryo was created in Dr Patel's laboratory with Jennifer's eggs and Kendall's sperm. The pregnancy is into its third month; Sonia gets a monthly allowance of Rs 2,000 ($50), food, lodging and medicines. She will also get Rs 250,000 ($6,323) once she delivers her child, and hopes to use the money to buy a home for herself.
Given the various stigmas Indian society attaches to unwed mothers, Sonia does not want her relatives to know she is pregnant; she has shifted to a hostel for surrogate mothers established by Dr Patel.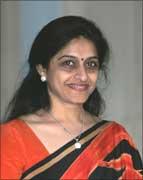 It is a measure of how Dr Patel (left) has set up her operation that Sonia, like other surrogates, will get to spend the period of her pregnancy in a fashion that will be of use to her later in life. She will thus get to enroll in a basic computer course, and also a course on beauty therapies -- both of which could translate into future employment. She is also attending classes in spoken English.
Surrogate motherhood has created a cultural stir in India, with critics suggesting that a woman should not rent out her womb. Dr Patel has consistently ignored such criticism. In her hostel for surrogate mothers, in Anand, over 55 women are currently in residence; each is pregnant with babies they are gestating for sums ranging from Rs 250,000 to Rs 300,000 ($6,323 to $7,588).
Dr Patel charges around Rs 100,000 ($2,529) for the IVF (In Vitro Fertilisation) procedure, inclusive of all expenses. Foreigners are charged around $15,000 per couple; this sum covering her professional fees, the surrogate mother's charges and all medical expenses.
She directs her visitors' attention to one particular woman, who was living in a hut but who, thanks to having been a surrogate, has managed to buy an apartment now. And though there is a financial side to the transaction, Dr Patel takes care to point out that every possible care is taken to ensure the health of the pregnant surrogate.
"Infertility is a global problem and we have its global solution," says Dr Patel. "This is not outsourcing. The issue is not even about black skin or white skin. Everyone's blood is red. There should not be any qualms about it.
"One woman who comes to me needs a child," she continues, "and another woman needs money. A woman is helping a woman. What's wrong?" Oprah agrees. She called the phenomenon a 'confirmation of just how close our countries can be' and dubbed Jennifer and Kendall 'cultural ambassadors' to India.
The Rediff Specials