Home > News > First Look


Hyderabad Bandh total, situation normal

May 19, 2007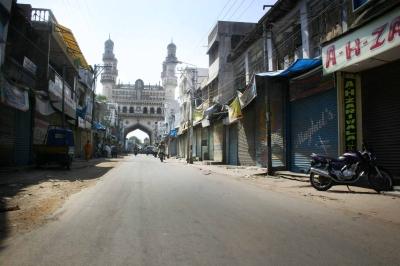 A day after terror struck during prayers at the historic Mecca mosque in Hyderabad, the police on Saturday said the situation was under control and that adequate forces have been deployed.
"The situation is under total control and there was no incident of violence," City Police Commissioner Balwinder Singh said on Saturday morning.
"We have deployed adequate police force. Four companies of Rapid Action Force are deployed to maintain law and order," he added.
A powerful bomb blast on Friday during prayers at the mosque and a clash with the police soon after the explosion by a mob claimed 14 lives and injured over 50, including five children.
Meanwhile, Old City areas on Saturday morning wore a deserted look due to a day-long `Hyderabad Bandh' called by Majlis Ittehadul Muslimeen to protest against the blast.
APSRTC buses have stopped service in Old City as a precautionary step, C Pandurang Murthy, regional manager of Hyderabad City Region, said.
Photograph: Snaps India