March 06, 2007


The first meeting of the joint anti-terrorism mechanism set up by India and Pakistan met on Tuesday in Islamabad.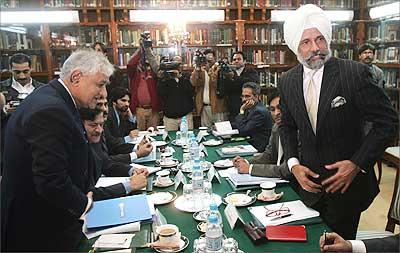 Additional Secretary with the Ministry of External Affairs K C Singh (right) prepares headed the Indian side while Pakistan Additional Secretary of United Nations and Economic Coordination Tariq Usman lead the Pakistani side.
India will give proof of the involvement of Pakistan-based terrorists in recent attacks in the country.
Pakistan, which had earlier said it will not allow the set-up to be a one-way channel, will ask India to stop backing the Baloch rebels.
Importantly, Pakistan will also ask India for the details about the Samjhauta Express blasts, which killed 68 people - mostly Pakistanis.
India might not share any information about the blasts till detailed investigations are over.
Photograph: Aamir Qureshi/AFP/Getty Images