June 23, 2007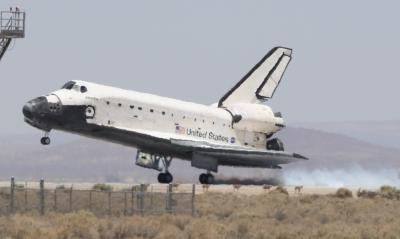 Space shuttle [Images] Atlantis landed at Edwards Air Force Base in California early Saturday morning after poor weather over Florida [Images] ruled out landing at the Kennedy Space Center.

With Commander Rick Sturckow and Pilot Lee Archambault at the controls, Atlantis landed at 3:49 pm EDT.

As Atlantis crossed the Pacific and glided over the runway at Edwards Air Force Base in Califonia, several people recalled the tragic memories of the Columbia disaster of 2003, in which India-born Kalpana Chawla [Images] and six others perished.
During its 13-day mission, Atlantis delivered a truss segment for the international space station Flight Engineer Clayton Anderson who replaced Williams.

Image: Shuttle Atlantis lands at Edwards Air Force Base.
Photograph: David McNew/Getty Images