Home > News > Report

Anti-Orkut campaign: Women, minorities stay away from Internet cafes

Binoy Valsan in Mumbai | June 10, 2007 16:28 IST
Last Updated: June 10, 2007 19:10 IST



The latest anti-Orkut campaign unleashed by the Shiv Sena in Maharashtra has put cyber cafe owners in a tight spot with women and members of the minority communities staying away from these Internet centres.

Click here to see a copy of the circular issued by the Ulhasnagar police to cyber cafe owners against Orkut

Browsing centres at Kalyan, Navi Mumbai and Thane appear to be the worst hit. Cyber cafe owners in parts of Mumbai are also in a state of fear as they are being closely monitored by Shiv Sena cadres.

"There has been at least a 20 per cent fall in our total business across the state. This is a sad scenario and reflects badly on the state's IT awareness in comparison with the rest of the country," said Aasish Saboo of the Association of Public ICT Tools Access Provider, an association of micro entrepreneurs in the IT sector, including cyber cafes and communication centres.

There are around 10,000 cyber cafes across the state and they have evolved into a profitable form of self-entrepreneurship for scores of unemployed and educated youth of the state.

The Shiv Sena cadres were irked by the 'I hate Bal Thackeray' community in Orkut.com, the social networking site owned by Google.

"We have put up notifications at our centres requesting customers to not browse Orkut.com. We also have a limit in these matters, but we are trying our best to save our business," said a cyber cafe owner from Ulhasnagar.

The cyber cafe owners and members of APIAP met Dr Kshatrapati Shivaji, secretary, Information Technology, Maharashtra, and conveyed their grievance over the issue last Monday.

"Some strangers (read Shiv Sena cadres) are regularly coming into these cafes and asking if Orkut is available or not. The police have in fact asked the cafe owners to oblige with the Sena's 'No Orkut' demand," Saboo added.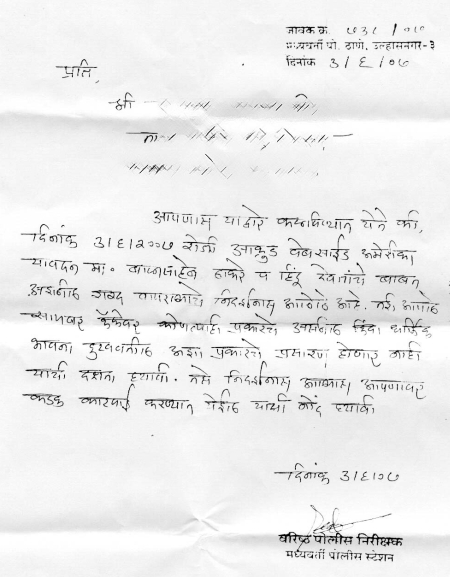 Tension and fear have gripped cyber cafe owners post the Shiv Sena protest against Orkut last week. Sena activists barged into cyber cafes and indulged in broad daylight vandalism in Thane and Kalyan.

Though local police claim that only some glass panels were damaged in the melee, television visuals and statements of individuals present on the spot, reveal that customers and also cafe personnel were manhandled by the protestors.

A complaint has been registered with the local police and they are also maintaining a close vigil on the situation to prevent it from flaring into a total law and order beakdown scenario.

On the other hand, Google, according to media reports, is claiming that Orkut is a platform for the public to express their opinions and views and also that objectional communities and user profiles are deleted on the basis of abuse reports.

Shiv Sena spokesperson Sanjay Raute told rediff.com that they are going full throttle against Orkut and will not tolerate any statements against their party and their supremo.

Interestingly, he also conveyed that Shiv Sena is not against cyber cafe owners and do not mean them any harm at all.

Orkut has 61 communities that support the Shiv Sena and six communities against it. It should also be noted that there are more than 100 'I hate Orkut' communities in Orkut itself!