Advertisement
June 07, 2007
The G-8 summit's discussions on climate change this week have brought the issue upfront on the international stage. No longer can the world's leaders pretend that the phenomenon of global warming -- which threatens to dramatically transform life on Earth as we know it -- does not exist.

Dr Rajendra K Pachauri is Chairman of the Intergovernmental Panel on Climate Change, which has investigated climate change and drafted the reports that have contributed to the aggressive debate on the issue. He spoke to rediff.com's Nikhil Lakshman recently about the many issues concerning climate change. A five-part interview, of which we publish the fourth segment today:

Photograph below, left: Dr Rajendra K Pachauri, Chairman, Intergovernmental Panel on Climate Change, at a press conference at the United Nations building in Bangkok, May 4, 2007.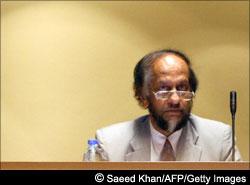 Part 1 of the Interview: 'Climate change reports have not been diluted'
China and India are often mentioned as the twins who might bring climate change to a head with their reckless consumption of energy.
In your dealings with the governments of these two countries, do you see some exasperation? Because if they are going to cut down on greenhouse gas emissions it almost means they are going to cut down on energy consumption, it is also going impact their economy.
How does development and the whole economic agenda fit in the compulsions of having to mitigate climate change?
There is no unique model of development even in the developed countries, there are countries that are more efficient users of energy versus those who are not. So what I think we should do -- and this suits our own interests nationally -- is to see that we ensure efficient use of energy. We should use as far as possible those energy sources which are low in carbon intensity.
You know it is not as though we have to do everything that the developed world has done. We necessarily have to chart our own path.
We have to essentially see what it is that we can do practically without jeopardising our economic prospects and the need for removing poverty. We should define what we are willing to do and what we are not willing to do. But we really have to undertake that exercise.
Don't you think that China and India continue their giant consumption of fossil fuels?
Yes, but you know we need to ask ourselves, do we not need to remove poverty, do we need to develop or don't we want to develop? So I think we have to get our priorities right. When you have countries that consume 40 times more than you do per capita then obviously it is those people who have to take the first steps.
This is clearly embedded in the framework convention on climate change. It says there is a common but differentiated responsibility.
If we have to bring about a global reduction then you know clearly the largest share of reduction has to be brought in by the developed countries. China and India are certainly increasing their share (of greenhouse gas emissions) but they are not increasing their per capita emissions anywhere close to the levels that you have in the developed world.
Part 2 of the Interview: Climate Change: 'The science is first rate'
You have said globally that the poor will be most affected by climate change. How will the poor in India be affected?
Look at the number of people who are most dependent on agriculture. If the precipitation pattern changes, if they are not going to get enough water, then they won't be able to grow crops to survive. Their livelihoods are gone.
On the other hand, we also have heat waves as a result of which these people are going to be incapacitated.
There will be morbidity, there will be mortality. Other health conditions are going to get much worse. You will have many more vector-borne diseases. There will be problems of clean water not being available, which is already a serious problem. So all of this really impacts the poor far more than those who are well off. There is a whole range of issues we have to be concerned about.
Globally, isn't it odd and almost unjust that the developed countries, which have brought about this situation, will probably get away more lightly than countries like Malawi, for instance, which have not done anything to aggravate climate change? These poor countries will be devastated by climate change in times to come.
Part 3 of the Interview: Climate change: 'We are likely to see growing water scarcity'
There is an equity dimension in this whole thing. There is also an ethical dimension which we can't ignore. I think the developed world has to consider these and build it into their plans and actions.
What would you tell the developed world to do?
I would say implement the framework convention on climate change in the spirit of that convention. And the spirit of that convention clearly highlights common but differentiated responsibility. It also talks about financial transfers to help the developing countries. It talks about technology transfer. All of that has to be done faithfully. And if you don't do that then you know the only agreement we have in this business is not being given adequate attention and is not being taken seriously.
In your interactions with the developed world, do they appear willing to do their bit for developing nations like Malawi, which will be devastated by climate change?
My belief is that things will change, only if public awareness changes. I think in democracies, which we have in most countries in the world, it is really the voice of the people that is going to carry the day. It is particularly important for people to understand and to be aware of what climate change is all about.
The only way you can bring about change is if you change people's perceptions. Whatever scientific assessments and facts we have should really be brought into the public domain. That is the only way. And if that happens, certainly the leadership of the world will start doing something.
How do we bring climate change to the table? At the moment most people think it is something like a nuclear attack. 'It may happen, it may not happen. But it is not something I go to sleep worried about.'
I think it is changing. I think there definitely is a shift. People are now getting to realise that this is not something in the future, it is something that is here and now.