July 13, 2007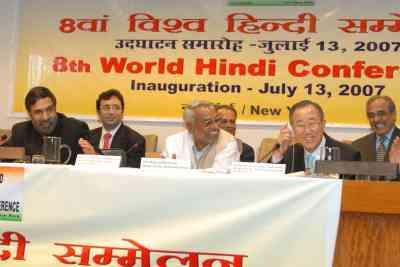 'Namaste! Mein Hindi thoda thoda bolta hun' ( Greetings to all of you. I speak a little bit of Hindi).'
United Nations Secretary-General Ban Ki-moon instantly won the hearts of the 900-odd members of the audience, an overwhelmingly majority of whom had come from India, with these words at the inaugural of the 8th World Hindi Conference that got underway in New York on Friday.
In an unprecedented act Ki-moon, along with his chief of staff, ambassador Vijay Nambiar, former Permanent Representative of India to the UN, came on to the podium at the conference room 4 at the UN less than an hour after the three-day conference began.
"This is a really unique and unprecedented that the Secretary-General (of the UN) may attend this function but this is because of my special respect and attachment to you and India," Ki-moon said amid a thunderous applause.
The Secretary General expressed the wish that he could speak in Hindi, which he described as a beautiful language, as fluently as others speakers, but he apologized he could not do so.
"When I was working in the Korean embassy in New Delhi, I enrolled in Max Mueller Bhavan to study some Hindi. But unfortunately much of the words that I picked up during that time in India has fallen into disuse. I very much regret that,' he said.
'But my appreciation for Hindi and the speakers has not. My own son-in-law speaks very fluent Hindi with pride," he said.  "I soon want to see the joint product between India and Korea," Ki-moon said in a lighter vein amid laughter.
Noting that he has a special attachment with India, where he had his first diplomatic posting and where his son was born, Ki-moon said he has given his daughter to an 'Indian man.' And not just that, the new UN secretary general continued, talking about his attachment to India.' I have so many Indian friends. In fact Vijay Nambiar, who is my chief of staff -- I have known him since 1972 -- was my boss. Now I am his boss. So this is all even now,' he said as the audience as well as Nambiar broke in laughter.
On a serious note he said that he was excited to learn that so many Hindi scholars have come to the UN.  Praising Hindi that he said has been building bridges between Indians all over the world since independence he said India's national language has united the Indian diaspora and Bollywood from Egypt to Ukraine.
"On behalf of my UN colleagues and fans of Hindi cinema and culture, let me wish you a successful conclusion of this conference,' Ki-moon said.
"Let me polish my Hindi a little bit -- Mujhe khush ho rahi hai is samai dete hueea. Mai apko sab shuv kamana deta houn ( I am happy to spend this little time with you. My all the best wishes with you).
Minister of state Anand Shamra , who was on the podium while Ki-moon spoke later  said he was happy with the secretary general's  speech. "I would rather he gives his speech in Hindi next time. We are very happy,"  he said. 
Photograph: Paresh Gandhi