July 06, 2007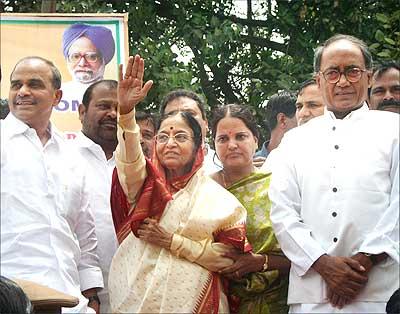 The United Prorgessive Alliance-Left Front Presidential candidate Pratibha Patil was accorded a tumultuous welcome in Hyderabad on Friday. She later interacted with Parliamentarians and legislators belonging to the Congress and the Left allies.
The Congress had mobilised a sizeable crowd at the Begumpet airport.
Andhra Pradesh Chief Minister Dr Y S Rajasekhar Reddy received her. Lambada women cheered her even as Mahila activists raised slogans hailing her nomination.
The Congress has 39 MPs and the Left parties have 4 MPs from Andhra Pradesh. The Telugu Desam Party has five MPs followed by the Telangana Rashtra Samithi's four members. The MIM has one and one of the MPs is a TRS rebel.
As each MP's vote has a value of 708, AP accounts for a tally of 42,480.
Similarly, out of the 294 MLAs, the Congress has 186 members, CPI-M 9 and CPI 6.
Besides, 10 independent MLAs, two Janata Party MLAs and one legislator each of Bahujan Samaj Party and Samajwadi Party are supporting the Congress. TDP has 45 MLAs, TRS 26 (including 9 rebels) and MIM five members. BJP has only two MLAs.
There is a CPI-ML member also. Each MLA's vote has a value of 148 and the assembly's tally comes to 43,512.
The total value of MPs and MLAs' votes in AP adds up to 85,992.
While the Congress, CPI-M and CPI members attended the interactive meeting with Patil, MIM and TRS, which earlier had a political alliance with the Congress, stayed away due to their 'differences' with the ruling party on several issues. The Congress, Left and  other supporting parties account for strength of 43 MPs and 224 MLAs (including 9 rebel TRS MLAs). The value of their votes comes to 63,596 (MPs: 30,444 and
MLAs: 33,152).
Image: Patil with Chief Minister Reddy and Congress leader Digvijay Singh
Text: Syed Amin Jafri in Hyderabad | Photograph: SnapsIndia