Advertisement
January 22, 2007
Admiral S M Nanda, who led the Indian Navy during the 1971 war, recalls how he fooled Pakistan into sending their sole long-range submarine to stalk the Indian aircraft carrier INS Vikrant outside Visakhapatnam port, while the carrier was safely harbored in the Andamans.

In the second part of his exclusive interview with Deputy Managing Editor Ramananda Sengupta, the admiral, now 91, recounts how it took a floating American-made lifejacket for the Indian Navy to realise that the Pakistani submarine had been sunk.

Part I of the interview: 'Karachi burned for seven days'

What about the Pakistani submarine which tried to attack the Vikrant?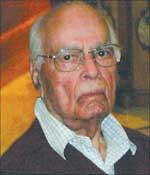 I knew they would try and attack the Vikrant, and so when things were hotting up, you know before the war really began they shot down two of our aircraft over East Pakistan, I decided to send the Vikrant to the Andamans.
Then they (his subordinates in the navy) said we don't have enough ships to escort the aircraft carrier in the Bay of Bengal. I looked at the charts around the Delta of the Ganges, and found it was too shallow to support a submarine for about 50 miles or so. So I said the aircraft carrier will operate only in this area.
If the submarine has to get at her it will have to surface, because it cannot stay down in shallow waters. We don't need escorts, I said. Only two ships were kept with her.
On December 3, when war was declared, I sent out the Vikrant with orders to operate along the coastline. The Pakistanis had planned out this war, so they sent the Ghazi, an American-built submarine and the only long-range one that they had, to Vizag, and then to Madras, where the fleet was.
The other submarines they had, from France, did not have that kind of range. They were all operating on the western front. In November, our fleet had been sent out to the Andamans. They thought the Vikrant was still at Vizag because we had worked up a lot of fake wireless traffic, about requiring supplies that could only be meant for a carrier, out of Vizag.
What happened to the Pakistani submarine?
Until the Second World War, no fishing boats were allowed out during wartime. I said this was a ridiculous way of doing things. So about two months before the 1971 war, I decided to issue orders that fishing trawlers would be allowed to go out. I said they should go out in a bunch, from each village or port, and if they find anything unusual, they should report it immediately.
How did that help?
It was a fisherman who discovered a lifejacket which had 'Made in America' written on it. At that time there was only one ship in harbour, the Rajput which needed some repairs. All the others had sailed to the Andamans. She left a few days later, about 8 in the evening or so.
In narrow channels, ships, during an emergency or war, always throw depth charges around them to deter submarines. One of them probably hit the Ghazi. The blow-up was there, but nobody knew what it was all about until the fisherman found the lifejacket.
We asked this fisherman where exactly it was found. I got hold of boats with sonar equipment. Finally they said there is something down below. The position was marked, and we sent some deep sea divers, who returned with the submarine's log book. It was the PNS Ghazi. We then knew where it had been, and what it had been doing.
Photograph: Admiral S M Nanda with then prime minister Indira Gandhi arrive on board the INS Vikrant during fleet excercises. Photograph courtesy: Admiral Nanda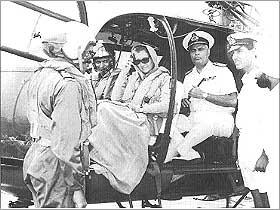 During the 1971 crisis, how did you feel when you learnt about the USS Enterprise sailing towards the Bay of Bengal?
That was quite funny. When the Enterprise announcement was made, the prime minister sent for me, and asked' Have you seen this news?' I said 'Yes madam, I have.'
'What are you going to do?' she asked. I said 'Madam, do you think America wants to go to war with India?'
She said 'Why are you asking that?' I said 'If they attack our ships, it is an act of war'. She said 'What do you think?' I said 'I don't think so, they are trying to pressurise us. They had tried it earlier in the Persian Gulf, where they sent their ships and the people had got frightened and gave in. We should stand firm.'
'What will you do if you come across them?' she asked. I said, 'Madam I have given instructions to my captains to treat them as friends, and to invite them on board for a drink.' American ships were dry (they did not serve alcohol).
During the Iran-Iraq war, some of our ships were shelled in the Gulf. Is that because our navy failed to protect them?
No. We can protect our ships only when somebody asks us to do so. Otherwise, they will feel we are interfering with their freedom of action. They have to ask us. Colombo, for instance, has been asking, and we have been sending our ships to help them. Otherwise, we can't just sail up to some other country's coast, specially in times of emergency, unless they are friendly and they specifically request it.
If we need to get through, we have to ask them. But they have to ask us for protection.
What about places like Lebanon, where we recently sent ships to evacuate our people?
That was in our interest, and we had to ask their permission. We just can't send them like that.
So what impact did the 1971 war have on the Indian Navy?
First, we hit the oil tankers in Karachi, depriving their war machine of oil. We had blockaded Karachi port also, totally. No ship could come in or go out. We also blockaded and bombed the ports in East Pakistan.
Yes, but how did it change the Navy?
Well, the country realised that the navy has some function. When the British took over India, they took control of the seas till our Independence. India today depends on the sea for its trade, for its contacts with other nations. So our prosperity, our integrity is dependent on the sea.
I think people are beginning to realise the importance of maintaining control over the seas.