Advertisement
January 09, 2007
Syed Salahuddin is on the list of 20 most wanted people which India provided Pakistan and Interpol in 2002.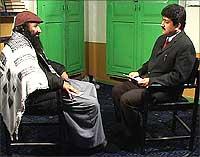 In the concluding part of an exclusive interview with rediff.com contributor and Geo TV broadcaster Hamid Mir (right), Salahuddin, 'Supreme Commander' of the Hizbul Mujahideen and the United Jihad Council, an umbrella organisation of 19 terror groups involved in Jammu and Kashmir, makes some startling revelations.
Part I of the Interview: 'We will keep on fighting'
Some people involved in the 7/7 bombing in London were linked with Pakistan occupied Kashmir. Do you have any linkages with the Kashmiris settled in the West, especially in the UK?
Belonging to the Kashmiri creed and link with the Kashmiris is a different matter. There are so many people working in the US in sensitive places who are also Kashmiris but it is not necessary that they are linked to us.
I repeat we are disappointed with the West but we are fighting only against Indian occupation in Kashmir.
I have been contacted many times by different Western governments in the past. I made it clear to the them that we are only confined to Kashmir.
India has repeatedly accused your outfit of being involved in violence outside Kashmir.
Part II of the Interview: 'We are not short of fighters'
Many times we have told India that they are fighting militants who are well equipped. When militants attack Indian forces and kill their soldiers then these forces, instead of taking revenge against us, take revenge by raping our families and damaging our property. This sort of revenge precipitates retaliation.
The irony is when there is a bomb blast in India then the international community raises an uproar against it, but when Indian forces kill innocent people in Kashmir and rape our sisters and mothers then there is no such reaction from the international community.
We have made it clear to the Indian forces that their revenge should be limited to us and they should not harm our families. But when they damage our property and kill our family members then we have to retaliate in a manner that we don't want to.
Pakistan restricts Hizbul Mujahideen
We can hit any soft target in India at any time but we have not yet started that because we are fighting the Indian State, not the people of India.
We have full sympathy with the people of India. There are 400 million people living below the poverty line in India, and we don't have any animosity against them.
Hizb threatens to extend stir beyond J&K
You participated in the 1987 Jammu and Kashmir assembly election but after the rigging you have carried the gun. Where do you see yourself after 20 years?
I contested the election as a United Muslim Front candidate against the then education minister who hijacked the results of the election. We then believed we could not promote our movement through democratic means.
I was arrested and it made me realise that slaves don't have votes.
To break the shackles of slavery we carried weapons. After 17 years I say that our success was more than our expectations. These troops were not able to hamper our movement. According to rough estimates 200 Indian soldiers have committed suicide. Most of the forces are under tremendous psychological pressure.
Most of the army personnel have told the Indian leadership that it is difficult to stop militancy on Kashmir's soil.
An election is no solution. First, the right of self determination, then a fair and free election.
Is it true that Hindu youngsters are joining the Hizbul Mujahidin?
In Jammu many Hindus have been martyred fighting for the Hizbul Mujahideen. These people have realised that Indians are ruthlessly killing children and women to take revenge against the militants.
We believe in a pluralistic society where we not only fight for the Muslims but also for all people living in Kashmir irrespective of their religion.
Our struggle is much older than Pakistan. In 1819 Maharaja Ranjit Singh conquered Kashmir, but his disorganised empire fell to the British in 1846 when they took control of Punjab. Kashmir was then sold to the self-titled Maharaja Ghulab Singh of Jammu for Rs 7.5 million under the Treaty of Amritsar.
Ghulab Singh also brought Ladakh, Zanskar, Gilgit and Baltistan under his control.
A succession of Maharajas followed, marked by several uprisings by the Kashmiri people, of whom a large percentage was now Muslim. In 1889 Maharaja Pratap Singh lost administrative authority of Kashmir due to the worsening management of the frontier region.
The British restored full powers to Dogra rule only in 1921. Dogras were a minority but ruled a Muslim majority in Kashmir. They announced the accession with India in 1947 against the wishes of the Kashmiris. The British government at that time played a very bad role.
Kashmir is the unfinished agenda of 1947.
Even today there is no legal succession document and that is why India lost its case in the United Nations.
We have a strong case with strong local support and that is why many Hindus are with us.
Would you like to name your Hindu fighters?
A resident of Prem Nagar, Kuldip Kumar alias Kamran, was recently martyred in Jammu region. He was our area commander. Kashmiri Sikhs and Christians are also joining our ranks.
Do you think the international community will respond and the Kashmir issue will be solved like East Timor was?
When someone has occupied your home, destroying your property and degrading your family members, then you have two options. Either you vacate your home or shout to the people around you to rescue you. From October 24, 1947 till now the people of Kashmir have never accepted the illegal occupation of Indian forces.
Before 1989 our ancestors were fighting without any sophisticated weapons but after 1989, when we saw that India was not listening to our legitimate voice, we picked up weapons as the last resort.
In the wake of Indian aggression we are not going to drop our guns.
If India does not accept the right of the Kashmiris then we are not going to stop our movement.
If India is serious about solving this issue through a practical mechanism and accepts the right of the Kashmiris then we don't have any interest in fighting.
Ten years of conflict in Kashmir
What is the practical mechanism?
Accepting the right of self determination.
Many people say that for 20 years Syed Salahuddin has been fighting with weapons, now he should return to politics and participate in elections.
If my participation in politics can restore peace then why would I not go for it?
But I don't think politics and elections can restore peace. Politics is there and elections are taking place regularly, but the core issue is Kashmir and that must be addressed first.
The people who considering this tripartite issue as a trilateral issue are being deceived by India because this core issue has never been discussed on the table. Side issues like the Baglihar Dam, Chenab, the Wullar Barrage, the Indus Waters Treaty and the demilitarisation in Siachen are frequently discussed.
The reality is that India is not ready to accept Kashmir as a core issue.
Addressing side issues is an Indian way to hinder our movement.
Are you disappointed with Pakistan or the Musharraf regime?
I have not been disappointed by Pakistan or its government. There can be differences of opinion, particularly on this core issue which has cost the lives of half-a-million Muslims. I have the right to express my difference of opinion but there are no differences.
Kashmiris have never been disappointed from Pakistan because Pakistan is the main party to this core issue. Our territory is linked to the surface of Pakistan.
Millions of Kashmiris are living in Pakistan and their sons have the full right to fight for their rights against the Indian Army. Nobody can stop us. This is our right.
Do you fear that Pakistan can hand you over to India?
I never have such fear. I firmly believe that Pakistan and its leadership will never hand me over to India.
I am the son of the soil and I have my right of movement on both sides of Kashmir so I can't be handed over to the enemy. I am on my soil.
You said you are on your soil. Are you not damaging the interest of this soil?
No, because my stay and movement has been accepted by the international community. The place I am living in is a part of my country.
Hamid Mir is the Bureau Chief of Geo TV in Islamabad
Also Read: