Home > News > Interview

The Rediff Interview/Hizbul Mujahideen Commander Syed Salahuddin

'We are not short of fighters'

January 08, 2007

In the second part of Hamid Mir's exclusive interview with Hizbul Mujahideen leader Syed Salahuddin, one of the most wanted men in India discusses terrorism in Jammu and Kashmir.

Part I of the interview: 'We will keep fighting'

Will the Hizbul Mujahideen announce a ceasefire if India agrees to tripartite talks?

Ceasefire is outdated now and it has been misused in the past. I still think India is neither serious nor sincere to solve this issue through talks, so a ceasefire is out of question now.

The Hizbul Mujahideen once declared a ceasefire in 2000 when there were rumours that the issue was going to be resolved soon by talks, but nothing happened.

We are no longer ready to announce any ceasefire keeping in mind India's past track record. We cannot forget that India tried to use that ceasefire for creating differences among our own ranks and also between Pakistan and Kashmiris.

First, India must show its sincerity by accepting Kashmir as disputed, second, by releasing our prisoners, third, by withdrawing its forces to the position of 1989, and it must stop its human rights violations in Jammu and Kashmir. Then our response will be positive.

Talks, terrorism can go together: Hizb

Your policy seems to be to sustain talks and militancy side by side, with apparently no chance of a ceasefire in the future?

Yes, no ceasefire. Talks can be started without a ceasefire. The same tactics were also adopted in Afghanistan and Vietnam. I am not saying anything new. I am confined to this point on the basis of India's past record.

Some leaders of the Hurriyat Conference say the people of Kashmir are tired of militancy and it should be abandoned. How long can you sustain militancy?

I want to reply with due respect that the Kashmiris are not tired; actually, these leaders are tired. The mujahideen are fighting Indian forces for almost 17 years. How can we sustain it in the region without the support of the people?

The people's support and love for us can be gauged from the fact that our fellow fighters enjoy a lot of popularity in the whole of Kashmir. Whenever one of our fighters is martyred, thousands of Kashmiris gather at the funeral and chant slogans to show their support for our cause. I totally refute the statement of those who say the Kashmiris are tired (of militancy).

You are being accused by Indian leaders of human rights violations, of attacking civilians in Jammu and Kashmir.

We have a code of conduct for the United Jihad Council and whoever violates this conduct is severely punished. Some people have been given the death sentence for violating this code of conduct. If we find someone working as an informer for the enemy's forces then we take him into custody and interrogate him, if he is found innocent then we set him free.

Our code of conduct bars us from conducting any activity in civilian areas.

Can you give me an example of punishment for attacking civilians?

I can speak for my organisation. We gave the death sentence to two Hizb fighters, Muhammad Iqbal and Muhammad Hassan Khan because it was proved that they violated the code of conduct. In another case, a Hizb fighter injured someone; we gave the same kind of injury to our man. That is why people are happy with us.

The Line of Control was heavily fenced by India, many jihadi outfits were banned in Pakistan, your offices in Pakistani cities were closed but you are still fighting. Who is providing you money, weapons and other logistics?

It is written in the Holy Quran -- Allah proclaims that 'Whoever follows my path I open new ways of success to him.' I have experienced many times in my life, particularly after 9/11, that Allah opened new ways for us because our belief in Allah was not weakened, so it was a blessing in disguise for us. The post 9/11 scenario gave impetus to our movement of self dependence.

There is no doubt the LoC is fenced now, but the geography of Kashmir has not changed. There are still mountains and forests in Kashmir.

Jammu and Kashmir is 110% suitable for militant activities and we are quite capable of fighting the 700,000 Indian forces; even 100 militants can fight the whole Indian Army present in Kashmir.

After 17 years of this militancy I can say we are fully equipped with modern weapons. After 9/11 we have successfully targeted our enemy with time bombs and remote bombs which is proof of our usage of modern technological methods.

We have mobile training camps in the forests; we have enough instructors and we are not short of fighters.

But there is another issue, and this is the responsibility of any good commander, to adopt a strategy where there is less activity with more quality.

Our strategy is that the casualties of our militants should be less and the losses of the enemy should be more. I am sure we are moving towards success with the passage of time.

We no longer run after the number of operations, we want less casualities for ourselves and more destruction for the enemy.

The birth of the Hizbul Mujahideen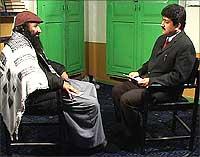 After 9/11 there was an impression that all the militants are anti-West, particularly anti-US. Are you only fighting India or you are also fighting the West too?
Kashmiris are very emotional people. When they see innocent people dying in Afghanistan, Lebanon and Palestine then they come out to protest against it. The name of Al Qaeda was introduced by America after 9/11, otherwise it was not popular among Muslims.
According to my knowledge there was an office in Jalalabad named Maktab Alkhidmat which was the office of the militants. I never heard of Al Qaeda during the Afghan jihad but now Al Qaeda is a ground reality. It has become a symbol of resistance against tyrant regimes, but we have no introduction or links with Al Qaeda.
As far as we Kashmiris are concerned, we are only confined to Kashmir. The Indians have always tried to establish our links with Al Qaeda and the Taliban. I think it is not in our interest to side with Al Qaeda because we are not fighting only for Muslim Kashmiris, we are fighting for all Kashmiris including non Muslims.
Bhagat Singh is a national hero in India who bombed the Indian parliament in 1930 and killed British police officers. If a militant like Bhagat Singh is a freedom fighter for them then we also have the right to follow the same path to achieve our goals.
The Indian government is no different from the British Raj of 1930. The Indian government cannot destroy our movement by branding us with the Taliban and Al Qaeda. The Taliban and Al Qaeda emerged in the 1990s, while we started our struggle more than a century ago.
Part III: 'We can hit any soft target in India'
Hamid Mir is the Bureau Chief of Geo TV in Islamabad
Also Read:
The Rediff Interviews