Advertisement
January 05, 2007
Syed Salahuddin alias Syed Yousaf Shah tops the list of 20 most wanted people which India provided Pakistan and Interpol in 2002.

On July 22, 2006, Ministry of External Affairs spokesman Navtej Sarna formally demanded that Pakistan arrest Salahuddin and hand him over to India.

Salahuddin, who obtained a master's degree in political science from Srinagar University in 1971, joined the Jamaat-e-Islami party after his education and contested the Jammu and Kashmir assembly election in 1987.

After he lost the election amidst allegations of widespread rigging, he abandoned politics, took up arms and became a founder member of the dreaded Hizbul Mujahideen in 1989.

He is now the 'Supreme Commander' of the Hizbul Mujahideen and the United Jihad Council, an umbrella organisation of 19 terror groups involved in Jammu and Kashmir.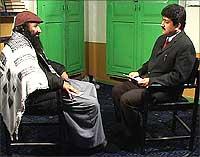 In a exclusive interview with rediff.com contributor and Geo TV broadcaster Hamid Mir (right), one of India's most wanted terrorists (left) provides his vision of what it will take to bring peace to Kashmir.
What is your reaction to Pakistan President Pervez Musharraf's recent proposals for joint control of Kashmir, self governance, and his pledge to give up his claim to Kashmir if India accedes to his proposals?
Unfortunately, India has never demonstrated sincerity in resolving the Kashmir dispute through peaceful means. We don't have any doubts about the sincerity of President Musharraf who is adamant to solve this issue, but his recent proposals are a big shift in Pakistan's Kashmir policy.
These proposals are also a shift from the views of the people of Kashmir, who have demanded liberation, self determination and a solution according to United Nations resolutions.
This kind of flexible approach or shift in the policy of Pakistan has always been viewed as weakness by India. Even now India is not ready to consider Kashmir a dispute.
Pakistan has initiated to solve this issue through a unilateral ceasefire and different CBMs (Confidence Building Measures), but all these measures have not led to a decline in the atrocities committed by Indian security forces in Kashmir. Rather, this has increased day by day.
I think these unilateral proposals presented by Musharraf are losing their importance because there is no positive response from Manmohan Singh.
Prime Minister Manmohan Singh recently welcomed Musharraf's proposals and said there could be a new peace treaty between India and Pakistan. If there is such a treaty in the future how will you respond to it?
There have been 131 rounds of talks between India and Pakistan in the past and the Simla, Tashkent and Lahore declarations, but we had zero outcome out of them.
Unless you are going to discuss the core issue of Kashmir, any treaty will be futile because the same issue has caused three wars between these two countries and the threat of a fourth war is again hanging on our heads. Seventy-five thousand Indian soldiers are deployed against the innocent people of Kashmir, which is affecting the lives of Kashmiris in a very destructive manner.
Any new peace treaty between India and Pakistan will be fruitless if it is not about the resolution of the basic dispute, which is Kashmir.
I think an expected new treaty between Musharraf and Manmohan Singh in 2007 will not be about Kashmir, so it will not change the ground reality. That is why we will not change our policy.
We will keep fighting.
Do you have any proposals for peace in the region?
I can propose that India should accept Kashmir as a tripartite issue, because it was also accepted by the UN. According to the UN it has three parties -- India, Pakistan and the Kashmiris. Kashmiris should be given the right of self determination which was also mentioned in the Havana Declaration recently.
Suppose India agrees to tripartite talks, who will represent the Kashmiris at such talks?
Those who ask for the right of self determination for the Kashmiris will go for the talks. In the first round of talks, the UN resolution should be implemented. Under this resolution whatever mechanism is adopted will be acceptable to us.
It is the matter of millions of people's destiny which cannot be decided by the talks of only a few personalities like Mirwaiz (Omar Farooq, leader of the All-Parties Hurriyat Conference) or any other person.
Kashmir is not a border dispute which can be resolved by Musharraf talking to Manmohan Singh; the Kashmiris have to be included in the talks. Some Kashmiri leaders tried to solve this issue through bilateral talks, which is again negating the tripartite level.
Are you referring to Mirwaiz Omar Farooq and (Jammu and Kashmir Liberation Front leader) Yasin Malik, who had direct talks with the Indian government in the recent past?
With all due respect I must say these people are not serving any interest of their people by talking directly to India. They say India does not consider it a tripartite issue so they turned it into a trilateral issue.
Tripartite talks give equal rights to the Kashmiris along with India and Pakistan. But trilateral is a useless exercise which will yield no fruit in the future.
India is only trying to divide the Kashmiris by talking to some people belonging to our region; those who started talks with India got nothing.
Part II of the Interview: 'We are not short of fighters'
Hamid Mir is the Bureau Chief of Geo TV in Islamabad
Earlier interviews with Syed Salahuddin: