February 06, 2007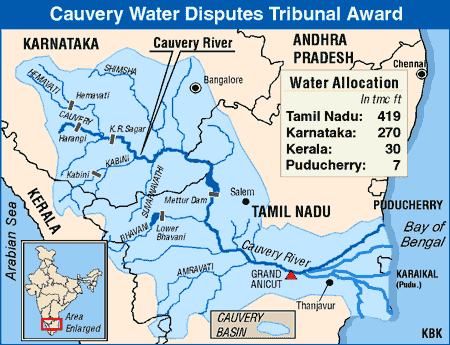 The Cauvery river originates in the Brahmagiri ranges of Kodagu district flows through large parts of Karnataka and Tamil Nadu and also some parts of Kerala and Pondicherry.
No attempt was made to utilise its waters for irrigation until 1883 when the Diwan of the princely state of Mysore launched a scheme. His primary aim was to increase the revenue to the King's coffers. The Diwan's move was resented by the Madras presidency under the British Raj. Thus began the Cauvery dispute which is yet to be solved.
The Cauvery row had some respite after two rounds of talks between the Mysore state and Madras presidency in 1892 and 1924. Mysore was permitted to construct a dam in Kannambadi village to impound 44.8 thousand million cubic feet of water. Madras appropriated to itself the right to construct a dam in Mettur in Selam district to impound 93.5 tmc ft. Madras had what is called prescriptive rights over the upper riparian state of Mysore. Malabar district was then part of the Madras presidency. Malabar is now part of Kerala, and Kerala too has joined the Cauvery fray.
The 1924 agreement was valid for 50 years, after which there was to be a review. It stipulated that Mysore could undertake any extension of irrigation by impounding Cauvery waters only with the prior consent of the Madras presidency. Twelve years after Independence and 15 years before the expiry of the pact, Mysore, by then rechristened Karnataka, wrote to Tamil Nadu, inviting its attention to several clauses, and suggesting changes. Tamil Nadu turned down the plea. Changes, it said, would be contemplated only after the expiry of the pact in 1974.
The central government began an initiative soon after, but the entire issue was given the appearance of a bilateral dispute between Tamil Nadu and Karnataka, the other two riparian states, namely Kerala and Pondicherry, having been left out until the 1970s.
Meanwhile, Tamil Nadu had expanded its irrigation by leaps and bounds against the letter and spirit of the agreement. Its acreage increased from 1.665 million in 1924 to 2.82 million by 1971. Karnataka's score showed a rise from 314,000 to 682,000 acres. The agreement had stipulated that Madras was entitled to increase its irrigation land to only 300,000 acres. Mysore's quota was 110,000 acres. Both had violated the agreement.
Countless rounds of talks have taken place to resolve the issue, without any success.
According to a study conducted by the central government in 1972, the utilisation of water from Cauvery in Tamil Nadu was 489 tmc ft against Karnataka's 177 tmc ft. Now Karnataka wants to utilise 465 tmc ft, against its present usage of 312.32 tmc ft. It is against this background that Tamil Nadu went to the Supreme Court.
The Cauvery Water Tribunal, in its interim award of June 1991, ordered that Karnataka release 205 tmc of water to Tamil Nadu during one water year, that is from May to June. It also stipulated a weekly quantum of flow, much to the chagrin of Karnataka. This led to large-scale violence on Tamils living in Karnataka. Karnataka has followed the interim order and has released much more than 205 tmc ft of water every year except during the year 1995-96. This led to the Supreme Court coming down heavily on Karnataka.
The tribunal which had been investigating the issue for 16 years finally came out with its verdict on February 5, awarding 419 tmc ft for Tamil Nadu and 270 tmc ft for Karnataka. Kerala was awarded 30 tmc ft and Pondicherry 7 tmc ft.
The move is likely to be challenged by Karnataka in the Supreme Court.
Also see:
Science, not law, has the way out of the Cauvery crisis