December 28, 2007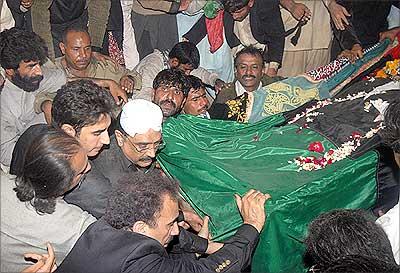 Asif Ali Zardari, husband of former Pakistan prime minister Benazir Bhutto [Images], lowers her coffin into the grave after her funeral prayer at Ghari Khuda Baksh in Pakistan on Friday.
Thousands of supporters of the slain leader gathered at Bhutto's ancestral graveyard in Ghari Khuda Baksh at Sindh for the funeral.
Zardari, son Bilawal and two daughters -- Bhaktawar and Asifa -- were present when her body was lowered in a grave at the family's white-domed mausoleum after funeral prayers.
The two-time former premier was buried next to her father, Zulfiqar Ai Bhutto, who was executed by the military in 1979 after being ousted from power.
Also in the family tomb are the bodies of her two brothers -- Murtaza and Shah Nawaz -- who also met with violent ends.
Photograph: Asif Hassan/AFP/Getty Images