December 27, 2007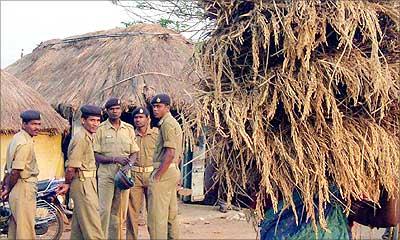 At least 12 churches and prayer houses in rural areas were torched and a Congress parliamentarian's house was attacked in violence for the fourth consecutive day in Orissa's tribal-dominated Kandhamal district on Thursday.
Miscreants ransacked and torched over a dozen churches and prayer halls at G Udaygiri, Nuagaon, Brahmanigaon and Phulbani Sadar, while the residence of Rajya Sabha Congress lawmaker RadhaKant Nayak was ransacked in Dasingbadi, the police said.
Saffron activists and Kui tribals, opposing tribal status to Christians belonging to Scheduled Caste 'Pana' group joined hands, with clashes breaking out at Brahmanigaon in Daringbadi area.
"Fresh incidents of arson and clashes were reported from Brahmanigaon and extra forces were sent to control the situation," District Collector Bhabagrahi Mohapatra said.
Curfew was in force in Phulbani and  Baliguda towns besides Daringibadi and Brahmanigaon areas, he said.
CM says situation is normal:

Claiming that the situation was improving in violence-hit Kandhamal district, Orissa Chief Minister Naveen Patnaik said over 24 persons had been arrested for rioting and arson.
"Action is being taken against the culprits," Patnaik, who visited the Kandhamal district headquarters town of Phulbani early in the day, told reporters on his return to Bhubaneswar.
"I was informed that the situation is improving," he said.
Three senior IAS officers, some IPS officers and other officers were stationed in the district to monitor the situation, he said.
Patnaik said one person had died in the clashes. He, however, did not divulge how many churches or prayer houses were burnt in the last four days.
Patnaik denied that the government was taking a 'soft' stand towards VHP activists allegedly involved in the violence.
Image: Police personnel keep vigil in curfew-bound Phulbani district.
Reportage: PTI | Photograph: Moulik Shivaji

Also Read:
'Many feel conversion is not the church's business'
Fresh violence in Orissa, police station torched