Home > News > First Look


Pravin Mahajan sentenced to life term

December 18, 2007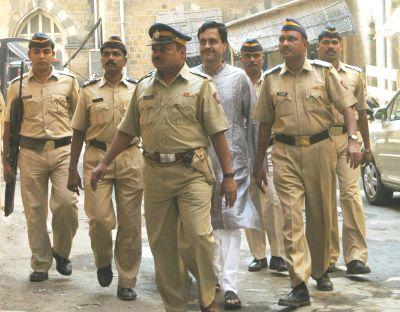 The Mumbai session court on Tuesday sentenced Pravin Mahajan to life imprisonment for the murder of his elder brother and Bharatiya Janata Party leader Pramod Mahajan.
Coverage: A Brother's Wrath
A day after the court find him guilty in the case, the prosecution had the sought death sentence for him.
Pravin Mahajan's wife Sarangi, who was present at the court, kept her composure as the verdict was read out by the judge. Apart from the life sentence, the judge also imposed a fine of Rs 20,000 on Pravin.
"Pravin is innocent and we will take the matter to the higher court," said Prasad Pulliwar, Sarangi's brother. "We are with our sister in her difficult times. The last 20 months have been traumatic for us. She has been following this case. At present, we have to take care of Kapil and Vishal, their two children."
However, the prosecution said it would appeal pressing for the maximum death penalty.
Rejecting the prosecution plea for capital punishment, additional sessions judge S P Davare said, "The murder is not a rarest of rare case and therefore death need not be indicted. This is not an extreme case of grave culpability".
The sentence was pronounced a day after Pravin was convicted on the charges of murder and house trespass with the intention to commit a serious offence.
In addition to the life term for the murder, Pravin was sentenced to five years rigorous imprisonment for house trespass. Both the terms will run concurrently. The convict was also ordered to pay a fine of Rs 15,000 and Rs 5,000 for the murder and trespass offences respectively.
Pravin was convicted of shooting Pramod three times with his licensed revolver at his Worli residence on the morning of April 22, 2006. Pramod succumbed to his injuries in a city hospital 12 days later.
Special Public prosecutor Ujjwal Nikam said the prosecution would appeal in the high court for an enhancement of the sentence after studying the judgement.
"We will read the judgement. after which we will seek an enhancement of the sentence from the Bombay high court," Nikam said. He said the murder fell in the rarest of rare case category since he has killed the 'concept of brotherhood'.
Pramod Mahajan's family said justice has been done in the case, though they had sympathy for the wife and children of Pravin who were suffering for his acts.