December 13, 2007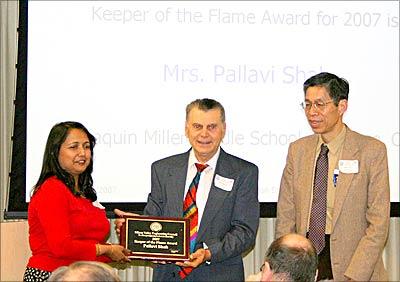 It was yet another feather in her cap for Pallavi Shah, an accomplished math teacher and coach in northern California, who has been honored twice by President George W Bush [Images] in the Oval Office when her students took first place and were the top individual scorers in the Mathcounts National Competition.
The Silicon Valley Engineering Council also honoured Shah with its prestigious Keeper of the Flame Award recently.
SVEC recognizes and honors heroes of middle and high school education who have distinguished themselves by maintaining high standards in mathematics and science instruction in the face of significant resistance. Thus, the award is not intended just to recognise outstanding teaching ability alone.
Shah told rediff India Abroad that she was touched and honoured, and pointed out that "declining enrollment in math and science in the United States is a major concern."
She said she was "thrilled that organisations like the SVEC and its member societies encourage and recognise teachers who go the extra mile to enrich their students' learning in math and science."
Shah, who has spent countless number of hours working after school with students on the Mathcounts team, acknowledged that "competing in Mathcounts at the local, state, and national levels has given me broad experience."
However, she acknowledged that Mathcounts "is limited to the top eight students in the school. Therefore, my current focus is to provide the opportunity to a greater number of students to participate in math competitions."
Shah said "my latest contribution is the Miller Math Marathon, which is designed to include many students from each school, and by hosting the competition at my school, Miller teachers, parents, students, and alumni are giving back to the community."
After the successful participation of 17 schools and 300 students in the last school year, she intends to make this an annual mathematics competition.
"I am always looking for ways to increase students' enjoyment of math," Shah said, and added, "It is this quest to keep students engaged in and excited about mathematics that keeps me going."

In explaining the rationale for the Keeper of the Flame award, SVEC said that during the 1990s, the content of K-12 mathematics and science courses had come under attack by the education establishment, and noted that these courses on 'new math,' 'integrated math,' 'discovery math,' etc, had sought to protect students from difficulties in learning traditional mathematical skills.
But it failed to provide students with the proper mathematical skills, the report said, and pointed out that science education had also suffered due to an 'anti science movement,' that had included attacks on what scientists to, how they affect society and the scientific method of reaching objective truth.
However, SVEC said there were many teachers who still recognised that their job is to teach mathematics and science skills, and not to fall to the 'whims of educrats'.
'These teachers display great integrity in defying the education establishment to ensure that their students actually learn mathematics and science,' it said.
SVEC said teachers of this particular calibre were those that the SVEC Keeper of the Flame award recognised and honoured.
Besides her awards in 2003 and 2005 at White House ceremonies with the students of the Mathcounts team, Shah is the recipient of numerous other awards, including in 2005, the Middle School Teacher of the Year Award from the Santa Clara Math Association and the Special Science Award from the Indo-American Chamber of Commerce. In 2002, she received the Edyth May Sliffe Award for Excellence in Teaching Middle School Math.
For the SVEC Keeper of the Flame award, Shah was nominated by the American Institute of Aeronautics and Astronautics of San Francisco members Prasad Gogineni, Rick Kwan and Council chair Eric Mueller for her work as a math teacher and coach.
Image: Pallavi Shah honoured by the SVEC's Keeper of the Flame Award