Home > News > First Look


Putin's successor as Russian president

December 10, 2007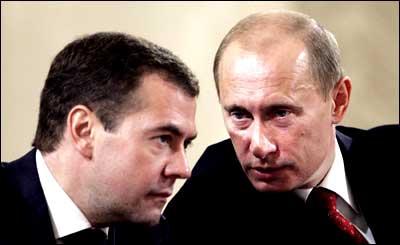 Russian President Vladimir Putin [Images] today approved the nomination of First Deputy Prime Minister Dmitry Medvedev as his successor, allowing the former KGB officer to retain control over Kremlin even after stepping down next year.
Putin made this announcement at a meeting with the leaders of 'United Russia' [Images], 'A Just Russia', 'Agrarian and Civil Justice' parties, who had jointly proposed the name of Medvedev as their common candidate.
"I fully approve this proposal," Putin said in televised remarks ending months of speculations about his successor for the top Kremlin job.
Putin said he personally knew Medvedev for last 17 years. Medvedev, 42, is a Kremlin insider seen as a staunch Putin loyalist.
Putin is to step down after the March 2 presidential elections after serving two consecutive terms.
Medvedev, a law graduate, was born in Leningrad (St Petersburg [Images]) on September 14, 1965. He was appointed first deputy prime minister in November 2005 to look after ambitious national projects for improving the housing, medical and educational facilities battered by the Soviet collapse and Yeltsin-era chaos.
Medvedev has served as Chief of the Kremlin Staff and is also chairman of the natural gas monopoly "Gazprom".
In 1991-96 he worked as the legal expert for the Committee for Foreign Economic Relations of St Petersburg administration headed at that time by Putin.
During an informal interaction Medvedev had told PTI that whoever comes to the Kremlin, the ties with India will remain a top foreign priority and Moscow [Images] was willing to forge an energy alliance with New Delhi, but the Indians would have to "cover their part of the path".

Reportage: PTI | Photograph: Yuri Kadobnov/AFP/Getty Images