Home > News > First Look


Did this man set off Hyderabad blast?

August 29, 2007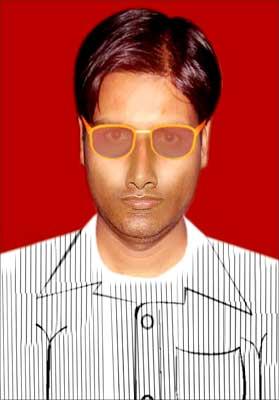 Taking the investigations into the twin bomb blasts that rocked Hyderabad last Saturday, the Hyderabad city police on Wednesday released a sketch of a suspect behind the blast at Lumbini Park.
Additional commissioner of police, special investigation team, M Punna Rao, released the sketch at a crowded media conference today.
"This is the sketch of the suspect at Lumbini Park blast. The suspect is aged 25 years. His height is 5 feet 8 inches. His complexion is very fair. His hair is very smooth. We made the sketch based on the description provided by an eye-witness ho had seen the suspected accused. The suspect was carrying a black bag," the additional CP said.
Coverage: Terror strikes Hyderabad
"The witness sat there (next to the suspect) for some time. But on spotting his friends, the witness moved three rows ahead while the alleged culprit was still sitting there. The witness also received an injury in the head when the ball-bearings from the blast hit him. But these were superficial injuries. The witness has recovered quite well (in the hospital) and he gave us a graphic description, has very pinpointedly shown the place where he was sitting and the alleged culprit were sitting (in the amphitheatre of Lumbini park for watching the laser show on the fateful evening)," Punna Rao added.
"Basing on the description provided by the witness and basing on computer software, we have made this sketch. We called a graphic professional from Mumbai to make the sketch. He did not miss any details. We cross-checked the sketch prepared with the witness who said that it was more than 90 percent accurate and there was not much of a difference," the SIT chief added.
Punna Rao appealed to the public as well as those who had been to Lumbini Park that day to pass on any information they had about the suspect. "If you have watched the suspicious movements of this person, kindly inform us and help us in the investigation. 594 persons had watched the Laser show that day. Maybe some of them might have watched the movements of this person. We will show the sketch to the employees of the laserium also," he said.
Text: Syed Amin Jafri in Hyderabad