Home > News > Report

A walk in a Tamil refugee camp

A Ganesh Nadar in Ramanathapuram | August 29, 2007 16:30 IST

It was originally built to house Burmese who had fled their country to avoid the Japanese invasion during World War II. Today, it provides shelter to Tamils fleeing Sri Lanka [Images].

The Mandapam refugee camp in Ramanathapuram district in Tamil Nadu, believed to be one of the oldest refugee camps in the country, is home to thousands of Tamil refugees.

6 am. The teashops have already opened for business in the market outside the camp. A policeman on duty, dressed in a T-shirt and lungi, lets me into the camp after I tell him I have come to meet Bala. As I walk in, I come across two huge water tanks. Both are not in use.

"If they fill water in these tanks they will come crashing down. The well water here is good in spite of the proximity to the sea," says Mary.

Thiravium, who runs a shop here, does not recall where Bala lives, but guides me to Mary whom I had met earlier. She works for the same organisation as Bala does.

Mary offers me tea at her house, which is in darkness thanks to a power cut. She wants a job but does not want to stay with her sister in Chennai. "The food is bad, the hostel is horrible," she grimaces.

Mary wants a job in Mumbai but has had to drop the idea -- she knows English but is not fluent in it. Her father was killed in a Sri Lankan Air Force air raid on her village. She has two sisters and a mother to look after.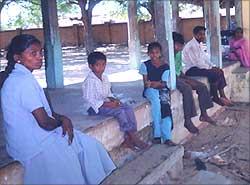 After a 'sweet' cup of tea, I resume my search for Bala. The huge camp can house 15,000 people. Only 4,400 people currently live here.

Both men and women can be seen sweeping the area outside their homes even as children get ready to go to school.

Suddenly, Bala comes rushing from the opposite direction. "I have to go to Madurai for a wedding. I will see you some other time," he says.

Prasannna arrived at the camp a month ago. He says the Liberation Tigers of Tamil Eelam lost the eastern part of the country after 'Colonel' Karuna abandoned the LTTE and decided to fight alongside the Sri Lankan army. Prasanna fled his country to avoid Karuna's troops.
Also Read: Prabhakaran's Eastern Challenger
"They force us to join their army. If we refuse we are shot," says Prasanna.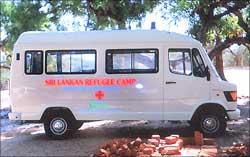 I walk back to the entrance of the camp. The friendly policeman is not on duty; he has been replaced by a clearly inebriated colleague. He is screaming at two Tamil families; one of the men is screaming back at him.

Many refugees are going back home. The reason -- those affected by the 2004 tsunami are being allotted new houses in Trincomaleee.
A full peace in Sri Lanka does not appear likely. The refugees have food, clothing and shelter in India, but have no peace of mind. They are safe from the bombs, but not from their memories.
Photographs: A Ganesh Nadar