Home > News > Report

Meet one of Mayawati's 89 trump cards

A Ganesh Nadar in Bisauli | April 21, 2007 00:58 IST



Tamil Nadu's Dravidian parties and Uttar Pradesh's Bahujan Samaj Party have one thing in common. Brahmin baiting. But the times have certainly changed. In Tamil Nadu, a Dravidian party, the ADMK, has a brahmin -- J Jayalalithaa -- as its all powerful head. And in Uttar Pradesh, as many as 89 Brahmins are contesting the Assembly polls from the BSP.

In Uttar Pradesh, which has 403 constituencies, caste plays a major role in elections.

Mayawati thinks she will have a winner if a candidate can bring in votes from his own caste to go with her Schedule Caste vote bank.

So how will her decision to field so many brahmins work? We sample the case of Lokendra Sharma, the BSP candidate for the Bisauli Assembly constituency, which falls in the Badaun district of Uttar Pradesh and is 60 km from Moradabad.

The day before voting, the BSP office in Bisauli was crowded, with party workers discussing strategy. With Sharma's arrival more men joined in.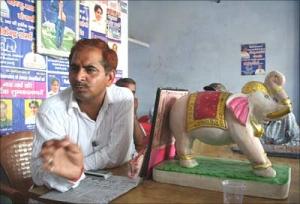 Clad in the politicians' typical white kurta-pyjama, and his hair dyed a strange shade of read, the tired-looking Sharma is ready to discuss the strategy with his workers, some whom touched his feet before sitting down.
"I became a politician only in the last one year after behenji (Mayawati) confirmed my ticket," the electrical contractor who has studied up to class 12 said. Here's how he became a candidate, in his own words. Just before one of Mayawati's birthdays, a district president of the BSP had met him and asked for a small donation of Rs 500 towards the celebrations. "I thought it was too little and it embarrassed me to give such a small amount. I was doing well in my business, so I gave him Rs 5000."
Two months later, the BSP man called and asked if I wanted to contest in the coming Assembly elections. He called twice. Then he suggested that I just attend an interview. Two party officials interviewed me. I consulted my personal spiritual Guruji who said I would contest. After that Behenji selected me," Sharma said.
As he had the advantage of knowing his candidature a year in advance, Sharma went from house to house meeting people. He first made himself familiar to the people and then asked for their votes. He said he was ready to serve the people.
"Even though I am a Brahmin I am sure I will get votes from all castes as I have personally asked each one for their vote. It is different from asking for votes over the loudspeaker at a public meeting or canvassing from a vehicle."
The issues that Sharma plans to take up are old age pension, widow pension, lack of ration cards and houses. Building houses for the poor will be another of his top priorities, he said. He also emphasises the need for decent water supply, which only the affluent sections enjoy now.
"Here, the MLAs are doing what the Panchayat must do. Only if you know the MLA does any work get done here," he said.
He claimed that the MLAs here did everything only for the people who voted for them. "On the other hand, I will work for the people. I will do so much work in five years that it will be a record in all of Uttar Pradesh."
On rumours about BSP chief Mayawati having sold party tickets for Rs 1 crore each, he laughed. "I did not pay 1 crore for the ticket but I have given money to the party for election expenses. What's wrong with that? In some places where the candidate is poor, the party spends for him or her."
What Sharma is banking on the most is the caste configuration in his constituency. He rattled off the figures: 45,000 brahmins, 45,000 from the Schedule Castes and 16,000 from the Backward Castes. The brahmin votes and the BSP's loyal vote bank put together must ensure his easy win, he said.
Jog him back to the good developmental work part, and he replies: "Good work in this area will be an additional qualification and it will attract more votes next time. The people who voted for other parties this time will also vote for me next time if I do good work."
Sharma, however, refused to comment about the strong arm tactics that this region so well known for. "I am not a politician who needs violence to make a point. I believe in Godmother Bhagwati to take care of me." 
Whatever the chances of this contractor becoming a legislator, he definitely has the aura of a successful businessman. And he does not seem concerned about winning or losing.
Neither is he concerned by the fact that the opponents are bringing in stars to attract voters. "I did not bring any stars here. I am the star here."